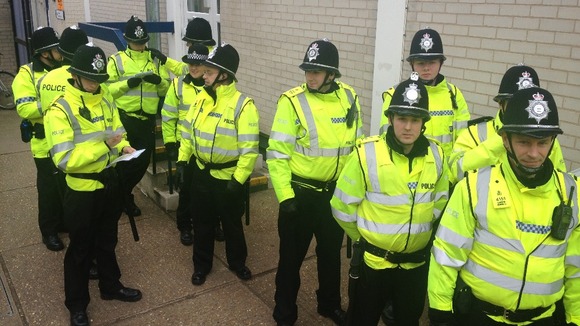 Six of the region's police forces will be in Cambridge today as two rival groups stage demonstrations in the city.
The English Defence League will hold an assembly as Christ's Pieces. The group, which describes itself as anti militant Islam, is opposing plans to build a new mosque off Cambridge's Mill Road.
Unite Against Fascism are planning a counter march, starting at Petersfield Green. Hundreds of people have signed up on social media sites to take part in the UAF demonstration.
When EDL members marched through Cambridge in July 2011 more than 670 officers policed the event. Today more than 400 officers from Essex, Bedfordshire, Hertfordshire, Norfolk and Suffolk police will carry out patrols in the city centre. They will also be monitoring CCTV footage from the area.
"Today's operation is about facilitating people's right to peaceful protest, while maintaining minimal disruption for the people of Cambridge.

"There will be extensive fixed and mobile CCTV in operation throughout the city centre and we will take firm action and prosecute anyone who uses the right to protest as an excuse to break the law.

"We have thorough measures in place to ensure any unlawful behaviour is recorded and dealt with swiftly."
– Superintendant Vicky Skeels, Cambridgeshire Police