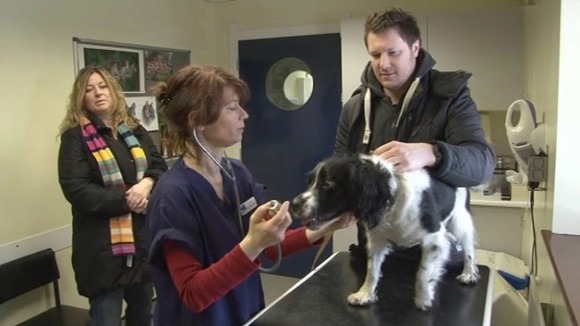 A Springer Spaniel dog from Ipswich has cheated death after eating a kebab stick which ruptured his stomach and entered his heart sac.
Reggie, attended a check-up today at the Animal Health Trust two months after the emergency surgery that saved his life.
He was rushed into the AHT on 11th January. An ultra sound and MRI scan found that Reggie had ingested the kebab stick which was causing him extreme pain and discomfort.
The kebab stick had ruptured through the stomach wall, perforating Reggie's liver and diaphragm and was protruding into his heart sac. The damage was so severe inflammation was starting to become visible externally along Reggie's breast bone.
He was rushed in for major surgery which took over three hours.
I have never seen a case like this before. The fact that the kebab stick had not just been ingested, but had managed to perforate so many. But what was even more surprising was that Reggie had survived for a few days in that intense state of discomfort before he came in as an emergency. I'm just so glad we were able to operate in time.
– Daniela Murgia, AHT's soft tissue surgery team