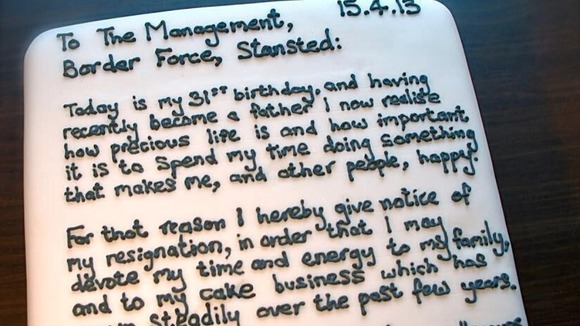 A Border Force official has quit his job at Stansted Airport with a letter which really does put the icing on the cake.
Chris Holmes from Sawston in Cambridgeshire wrote his sugary resignation note yesterday, telling bosses that he was giving up his job to devote more of his time to his family and cake business.
"It just seemed like the obvious choice, having set up a cake company, I thought I would leave them with a memento that would be a nice way of remembering me. I had the idea six months ago so I've kept it to myself since then.

I think [my boss] was pleasantly surprised, of all the resignations businesses get, I think that's probably a nice way for an employee to leave and I hope they enjoyed the cake as well as the resignation."
– Chris Holmes, Mr Cake

Bosses at Stansted told ITV News they wish Chris well in his new venture - and it seems they enjoyed the cake.