Paramedic wins major prize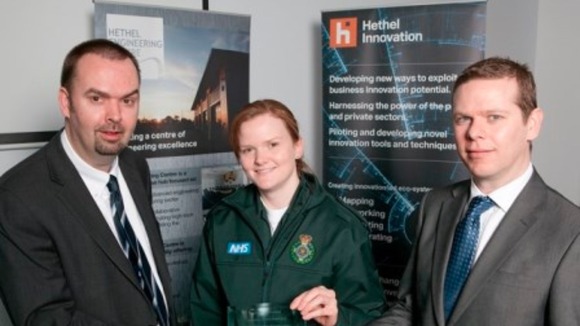 A paramedic is celebrating winning funding worth £5,000 to help develop her idea for a new spinal board to make it safer when moving patients.
Sally Boor won the first Innovation Voucher Scheme launched by Health Enterprise East
The award was sponsored by Hethel Innovation, based at Hethel Engineering Centre near Norwich.
Sally, who is based at Melbourn in Cambridgeshire, designed a new spinal longboard for safer and more effective mobilisation of patients, who have suffered spinal,neck or head injuries.
Chris Armstrong, Marketing Manager at HEE said:
"Congratulations to Sally for her award-winning idea. This is our first Innovation Voucher Scheme focused on medical technology, which was designed to support the development of new ideas.
– Chris Armstong, Health Enterprise East

Sally Boor added:
"I was delighted to hear that I'd won the Innovation Vouchers and look forward to working with 20-20 Group, Hethel Innovation and Health Enterprise East to create a prototype."
– Sally Boor, Paramedic

HEE's Innovation Voucher Scheme invited ideas for medical devices, clinical equipment, diagnostic assays and kits or software applications. The Voucher can be used to develop the idea in terms of feasibility research, product design and development or filing IP, patents or design rights.