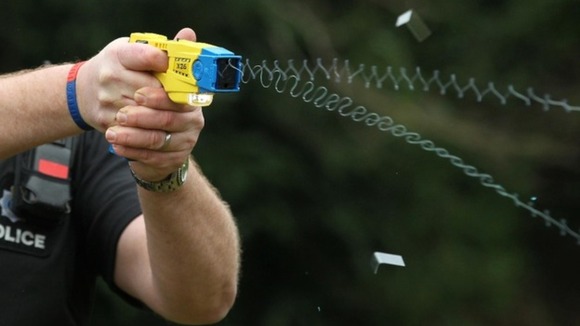 More police officers in Cambridgeshire will carry Tasers. Taser is set to become more widely available with 120 extra officers receiving specialist training.
The additional officers, from local policing, the Automatic Number Plate Recognition team and the Tactical Team will begin to carry them out on the streets.
Currently, only 55 firearms officers are trained to carry Taser but it has proven to be an effective tool in dealing with potentially violent situations.
Chief Inspector Nick Church, lead officer on Taser, said:
"Extending the use of Taser across the force will enhance the safety of both the public and officers.
"I know there has been concern about its extended use but our firearms officers have been authorised to use Taser since 2006.
"The threat of using Taser, where a red dot appears on the person's torso, is often enough to quieten an offender so they can be dealt with without injury to them, officers or members of the public.

"Our officers have to deal with violent, often unstable, offenders and this simple device is one of a number of tactical options officers can use when there is a threat to a member of public or an officer."
– Chief Inspector Nick Church, lead officer on Taser

Since January 1, 2012, Taser has been deployed 432 times in Cambridgeshire, people have been red-dotted on 37 occasions and there have been three discharges.

On none of these three occasions have there been any injuries or medical problems caused to the person who has been Tasered.
"Taser will only be used when absolutely necessary and will be considered alongside other options including negotiation, batons, incapacitant sprays and dogs.

"Officers have already gone through selection criteria to carry a Taser and will need to pass a rigorous training course set nationally."
– Chief Inspector Nick Church, lead officer on Taser