Children's waiting room transformed at Essex Hospital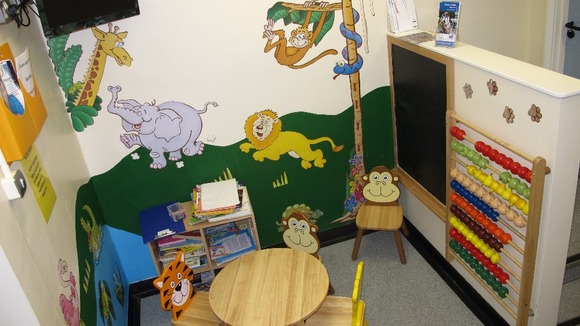 A Colchester hospital waiting room which is used by children has been transformed thanks to charitable donations.
The orthoptic waiting room at Essex County Hospital has been decorated and furnished with an animal theme. There is also a new TV, a bookshelf and pockets for colouring sheets.
Helen Lowbridge said the project had been triggered by responses to a patient survey.
"Two out of three of the patients who use the waiting room are children and the majority of them are ranged in age from babies up to seven-years-old. Therefore we decided to transform the room to make it look welcoming and cheerful in a way that would most appeal to that age group – although we've also had very positive comments from adult patients too."
– Helen Lowbridge, Orthoptist

The cost of the project was £450 and was paid for in part by a £200 donation from Asda after customers at its store in Turner Rise, Colchester, chose to support Colchester Hospitals Charity.