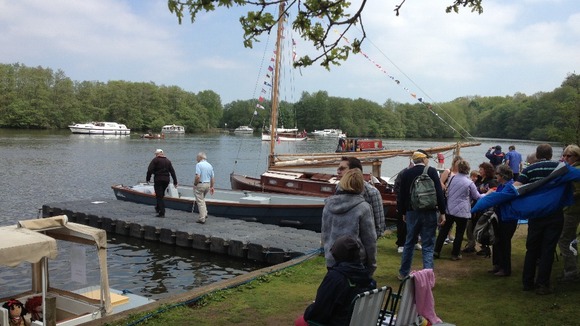 One of the region's most popular tourist destinations has played host to a boat and tourism show.
The Broads Green Boat and Tourism Show took place at Salhouse Broad in Norfolk, with the accent on having fun on the water without damaging the environment.
It was the the culmination of the two-week Broads Outdoor Festival and today the show was opened by Martin Dunford, founder of the Rough Guides travel books.
When everybody was jetting off abroad, who would have thought holidays in Britain, especially on lovely days like today, are very much back in fashion. It's good that we are rediscovering the beauty of Britain and the diversity it has to offer."
– Martin Dunford, founder of the Rough Guide books

Visitors to the show got the chance to board some of the Broads' most historic sailing boats and enjoy the delights of one of the country's most famous waterways.
It really is a special place. There really is something for everyone. It's lovely getting out on the water. It's a very peaceful place but there are also lots of good pubs on the Broads and lots of things to see and do.
– Toby Baker, Wildlife Ranger