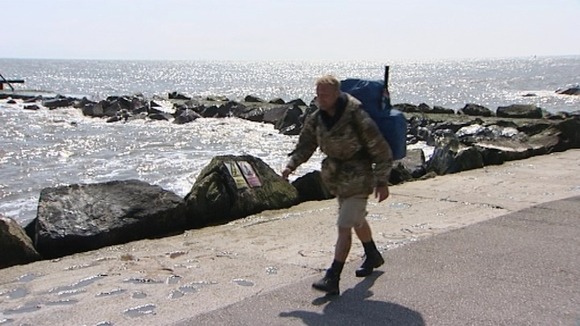 A former soldier who is walking the entire coastline of Britain for charity has arrived in Suffolk.
Christian Nock started his trek in Blackpool in August and has already covered more than three thousand miles.
From the west coast to our most easterly point - Christian Nock is on his tenth pair of boots since embarking on his epic walk.
"Because I've documented the whole walk on my blog on facebook everyone knows where I'm going to be and I get amazing messages of support. I meet people all the time that either want to give me a brew, buy me a beer or feed me. At the moment my life is getting a lot easier because the weather is picking up, but I've walked through hell this winter"
– Christian Nock, Former soldier
"He is mad as a box of frogs. If I had done half of what that man has done then I would be really chuffed. I don't know where he gets his energy from, I really don't. I struggle to get out of bed sometimes and he is sleeping in garden sheds and on floors for the last ten months. It is amazing"
– Nick Webb, Mayor of Lowestoft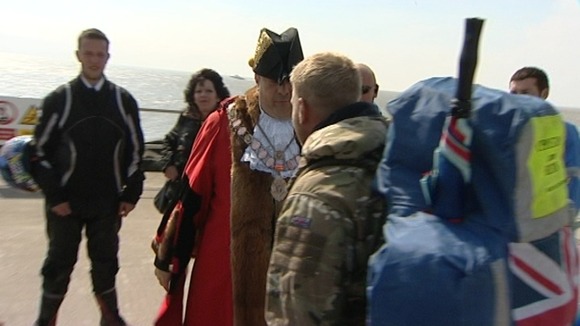 After serving in the army for nine years Christian's already raised nearly £70,000 for Help for Heroes.
"It's going the right way to help soldiers. We have had 98 come back who can no longer work with their wounds so the associations help with the families. Stair lifts put in, bath lifts, extensions on the back of the house. Councils don't provide that it's got to be the associations."
– Tom Bradley, Former serviceman

Christian has been on the road for 297 days already and he has hundreds of miles still to go. Today's task was a mere ten miles or so to Great Yarmouth and after that he will walk wherever the coastline takes him.