Army flying squadron celebrates 70 years in the air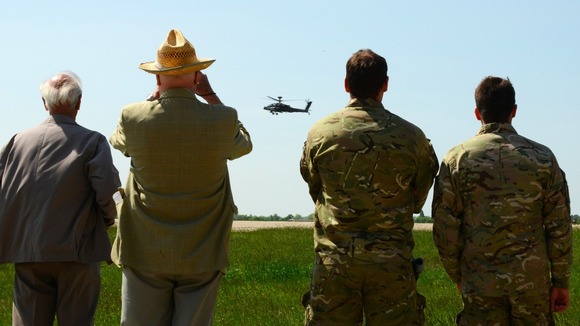 An Army aviation squadron now based in Suffolk has celebrated 70 years of flying, half of which has been spent on operations.
656 Squadron, part of 4 Regiment Army Air Corps, was formed during the Second World War to fly artillery observation missions in Auster aircraft and is now at the forefront of operating the Apache attack helicopter.
The anniversary was celebrated with a get-together for serving soldiers, veterans and families at the unit's base at Wattisham Flying Station on Friday 7 June. It was marked by an Apache flypast.
"It's important to bring everyone together to mark the anniversary because it is our soldiers, past and present, who make the squadron what it is. Mixing across the generations helps create the sense of identity and purpose that is behind our successful history.
– Major Piers Lewis, officer commanding 656 Sqn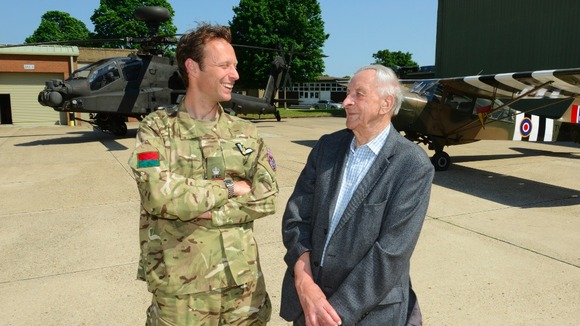 Among veterans at the celebration was Vince Weaver, who was among the first soldiers to join the squadron when it was formed in December 1942 from a mix of RAF and Royal Artillery personnel.
The 90-year-old from Walthamstow, East London flew missions as an observer and radio operator insupport of operations against the Japanese in Burma.
"We flew over the jungle spotting targets for the artillery,and then observed where the shells landed and correct their fire. It's been great to come back and meet the current soldiers, who've got the same approach to life and work as we had in Burma. The Apache is far a more solid aircraft than the Austers we were flying in, and it's amazing to see the advances in technology."
– Vince Weaver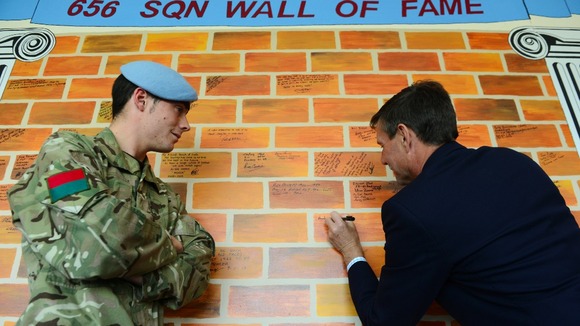 After the Second World War, the unit was based in Malaya throughout the campaign against Communist guerrillas from 1948 to 1960, before taking part in peacekeeping operations in Rhodesia, the Falklands War and two deployments to the Balkans. Aircraft it has flown include the Tiger Moth biplane, seven different marks of the Auster and Scout, Lynx and Gazelle helicopters.
Since equipping with the Apache, the unit has deployed on three tours of Afghanistan and during the NATO-led Libya operation in 2011 flew the helicopter's first operational missions from onboard a Royal Navy ship.
656 Squadron's current role is to provide Apaches ready to deploy at short notice in support of both 16 Air Assault Brigade, the British Army's airborne rapid reaction force, and the Royal Navy's Response Force TaskGroup. The unit returned last week from training onboard HMS Illustrious.