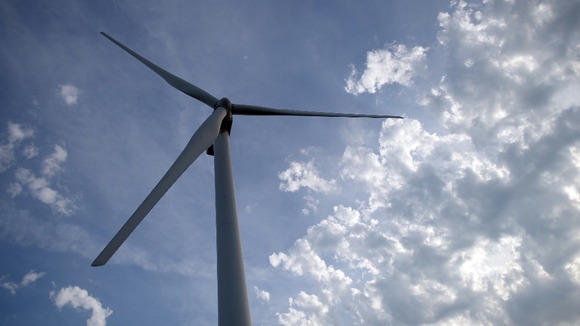 Energy minister Michael Fallon played down the importance of shale gas as he opened the world's second biggest offshore wind farm.
The minister - who has come under criticism for what he claims were "light-hearted" remarks about the impact fracking could have on communities - was speaking during a visit to Great Yarmouth and Lowestoft today.
He officially opened the Greater Gabbard wind farm, which has 140 turbines off the coast of Suffolk, and said that renewables were playing an increasingly important part in the UK's energy mix while shale gas exploration was in its infancy.
Asked if the Government was weak on its renewables policy, he added:
"Other countries like Germany and Denmark got further ahead but we're rapidly catching up.

"We need more home grown energy from all sources and we can't be too dependent on international gas and oil prices.

"Wind and other sorts of renewables are becoming an important part of the energy that we need."
Earlier this week Mr Fallon was quoted as saying shale exploration in the Weald stretching from Dorset and into Surrey and Kent, would test whether the "commentariat" would "like the flaring at the end of the drive".
The comments caused embarrassment, coming after Surrey-based peer Lord Howell caused outrage by saying shale gas exploration should be focused on the "desolate" areas of the North East.
Mr Fallon did not comment on the damage such comments had caused to the Government's position, instead saying:
"Shale gas exploration is in its infancy.

"It's only just starting and we're 10 years behind the US and we don't yet know whether we can extract shale gas as cheaply as they've been able to."It's for local communities to decide whether they want to host shale gas exploration.

"These are planning decisions which will first of all be taken locally and it's up to the developer to engage early with local communities and explain to everybody what they're planning to do."
He added that in 2010 wind energy accounted for 2.7% of the UK's energy production whereas in the first quarter of this year this rose to 6.7%. The Department for Energy and Climate Change (DECC) hopes that this could rise to 10% in the near future.
Prime Minister David Cameron recently opened the world's largest offshore wind farm, the London Array, and Greater Gabbard is expected to make another significant contribution with plans for it to double in size by 2017.
There are also plans for an East Anglia array which could be 10 times the size of Greater Gabbard at up to 1,500 turbines.
During his visit, Mr Fallon met leaders from the energy sector and said it was becoming clear that East Anglia was establishing itself as a capital for both renewable and traditional energy companies.
Opening the Greater Gabbard farm, he said:
"Greater Gabbard has already brought jobs and wider benefit to the local community, with hundreds of people employed on site, and a £150,000 fund created to support local initiatives.

"It has also benefited local business. Today, I visited Seajacks, a British company based in Great Yarmouth, who are building the world's largest and most advanced offshore wind farm installation vessel to transport turbines out to this great wind farm.

"This sector is an engine of our economy. By the end of this decade, tens of thousands of additional jobs could be created in the supply-chain for offshore wind throughout the UK."
According to the DECC, offshore wind has the potential to provide enough clean power for 11 million homes in the UK by the end of this decade, creating 30,000 jobs and contributing £7 billion to the economy.
After opening the wind farm, Mr Fallon was due to view the turbines from the air by helicopter before a private meeting at the Sizewell nuclear power plant.