Charity launches appeal to reunite Dutch ferret with his owner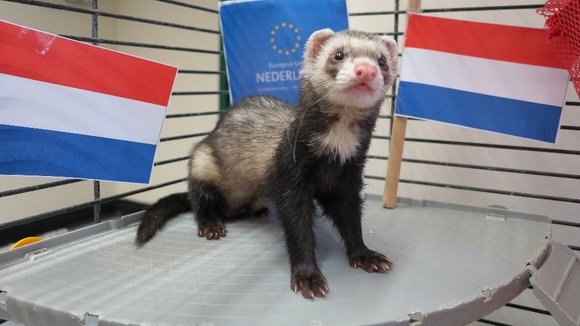 An animal charity has launched a nationwide appeal to reunite a Dutch ferret with his owner.
The 18-month-old ferret was discovered by staff in an aircraft hangar at Marshall Aerospace and Defence Group in Newmarket Road, Cambridge on Sunday evening.
Vincent, as he has been named by animal carers at animal charity Wood Green, was brought to the charity's Godmanchester centre in Cambridgeshire on Monday where he was checked over by a vet and scanned for a microchip.
Staff at the centre were surprised to discover the chip was registered in the Netherlands but have been unsuccessful in tracking down Vincent's owner.
It is thought the plucky pet could have boarded a C-130 Hercules aircraft from the town of Eindhoven in the Netherlands and travelled the hour long flight to Cambridge.
"We know from Vincent's veterinary check that he is a well-cared for pet and it is quite likely a family out there are missing him dearly.

"The problem we have is that we don't know whether Vincent has managed to find his way to the UK on his own or whether his family have in fact moved over with him.

"Vincent is a bright and playful ferret and we hope that by appealing to the public we will be able to reunite him with his family as soon as possible."
– Marie Channer, Head of Small Animals at Wood Green
"This is an absolute 'first' for us in the 104 year history of Marshall, to have discovered a ferret in an aircraft hangar! However, there are very strict rules about transportation of animals to the United Kingdom and, when we discovered Vincent came from the Netherlands, we advised that the UK Border Agency should be notified.

"Darwin airlines will be commencing scheduled flights from Cambridge to Amsterdam on September 2 so we may be able to help him with his return flight to Holland!"
– Terry Holloway, Group Support Executive at Marshall of Cambridge

Vincent will be cared for at Wood Green until his owner comes forward or he is rehomed to a new family.