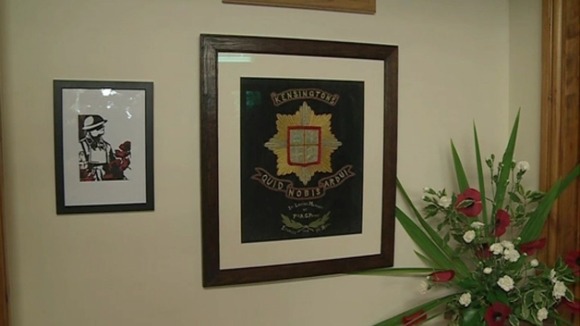 A restored memorial to a fallen First World War soldier has been unveiled in the Suffolk village of Drinkstone where he was born. The embroidery, commissioned by the family of Private Arthur Pryke in the aftermath of the Great War, was discovered by chance on an internet auction site in June 2009 by Drinkstone resident Robin Sharp.
"I was surprised to stumble across the item on eBay and I recognised the name at once as one of the 15 Drinkstone men who did not return from the First World War and who are listed on a plaque in the parish church. I quickly telephoned the secretary of the village History Group and we agreed we should do our utmost to win the auction and bring the memorial home to Drinkstone - and I'm pleased to say we were successful."
– Robin Sharp, Drinkstone War Memorial Institute

The memorial is in the form of an embroidery and had previously been bought at a car boot sale in Woolpit in the late 1990s by a collector and Great War enthusiast from Bury St Edmunds.

After clearing out his shed where it was stored for ten years, he offered it for sale on an internet auction site. Time had taken its toll on the embroidery and before it could be put on display at the Village Hall, which is Drinkstone's official War Memorial, it needed to be cleaned and restored.

The cost of restoration and bringing it back to the village was around £1600 and the money was raised through fundraising events and personal donations.

Arthur George Pryke was born in Drinkstone on 23rd February 1892. When the First World War broke out he was working as a farm labourer.

He enlisted in the army at Bury St Edmunds, joining the 8th Battalion of the Suffolk Regiment. At some stage he transferred to the 13th Princess Louise's Kensington Battalion, the London Regiment.

Whenever this may have been, he arrived for service in France on 26th July 1915. It seems he served in France until the end of hostilities - almost. Sadly, he didn't quite make it to the Armistice of 11th November 1918. It is recorded that he died on 1st November aged just 26.

He was laid to rest in the British military cemetery at Étaples, near Boulogne. A special commemorative embroidery was commissioned and framed to hang at home in his memory.
"We're so pleased that we've been able to bring this memorial home for permanent display where it was intended to be, here in Drinkstone, thanks to the generosity and goodwill of many folk. It is a poignant reminder of the loss felt at the time by those families whose husbands, brothers, sons did not come back from the Great War. It is fitting that this memorial to one of those who was lost, Private Pryke, should be unveiled 95 years and one day after he died, and in time for this year's Remembrance Sunday"
– Robin Sharp