Patient raises cash for medics who saved him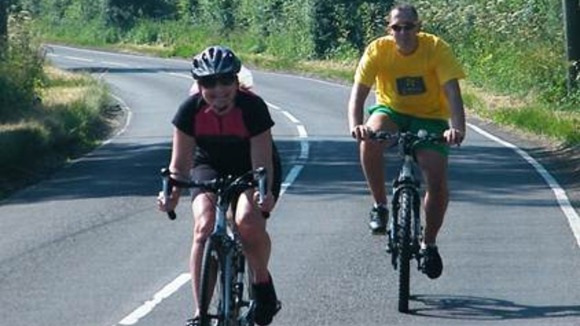 A man from Northampton has completed a triathlon for Warwickshire & Northamptonshire Air Ambulance, 13 weeks after they they treated him for life-threatening injuries.
Simon Glover was involved in a horrific accident in March this year, while doing DIY at home. He was using an angle grinder on a wall at his house in Grange Park when it kicked back and hit him in the neck. Warwickshire & Northamptonshire were called out to Simon's home to provide critical care.
"The paramedics, doctor and ambulance arrived within minutes and stabilised me and within 11 minutes of the 999 call, the air ambulance had landed and loaded me on board. Within 22 minutes they had flown me to University Hospitals Coventry & Warwickshire."
– Simon Glover

At hospital, Simon's windpipe had to be completely reconstructed and he received 26 staples to his throat and neck as well as stitches to his arm.

Simon went on to make an excellent recovery, and 13 weeks after the accident he ran a triathlon with his friend Karen, to raise money for the Air Ambulance Service
"I was astonished that they don't receive a penny from the Government and every single thing is purchased by money raised by the generous public, right down to the little things like bandages.

So I decided to do a mini triathlon, which turned out not to be so mini: a 400 metre swim, then a 20 kilometre bike ride and to finish, a 6 kilometre run."
– Simon Glover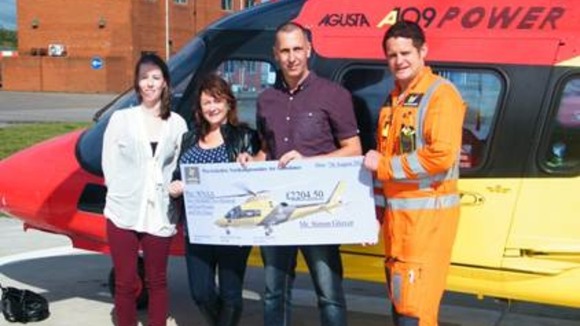 Simon raised £2,200 for the charity. He later presented the cheque to the crew who had treated him.
"It was quite emotional seeing the people that saved my life and cared for me. No matter what I say or do, I will never be able to repay them or any of the other people that saved my life that day, but it's not until something like this happens to you or someone close to you that you actually realise just how important it is that we have this service."
– Simon Glover