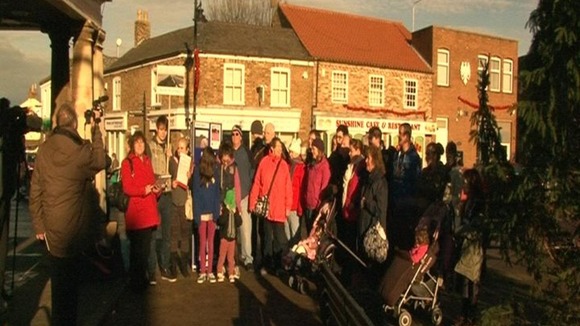 People in Whittlesey in Cambridgeshire say they want urgent action to improve safety on a nearby road, after a number of serious and fatal accidents.
This morning they held a protest in the market square, to raise awareness of what campaigners are calling a "dangerous road". In the past month there have been six accidents at a corner on nearby North Bank, two of them fatal.
Neil Pridmore and his son David crashed at the same spot a few weeks ago. Neil was knocked unconscious, and their car ended up in the River Nene which runs alongside the road.
"We swung to towards the river suddenly, then we swung back. Then we started to roll. I think at that point I was knocked out. The next thing I remember was hitting the river and being woken up by the cold water coming in through the windscreen, andd not being able to get out and taking my last breath in the river, or what I thought was going to be my last breath."
– Neil Pridmore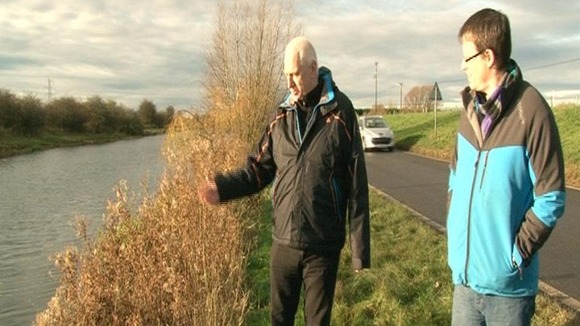 David managed to pull his father from the car, and they both escaped without serious injury. Neil says he very nearly drowned, and that he is lucky to be alive. He believes that a barrier alongside the road would have prevented his car from going into the river, and may help to save lives. Some of those campaigning are also calling for speed cameras to slow people down.
Peterborough City Council told ITV News Anglia this week that they are looking carefully at how they can prevent future accidents on the road, and that they will take action once they decide on the best way to do this.
"What it is important to do is to look at the evidence, look at the factors contribution to the recent incidents, and to design the most appropriate solution, and that is what we are doing at the moment".
– Simon Machen, Peterborough City Council