Massive lorry draws the crowds
by Olivia Paterson
A huge lorry load made its way through Bedfordshire and Northamptonshire today, accompanied by a police escort.
People gathered along the route to see the 170 tonne electrical transformer pass by. 9 metres long, and 5 metres wide, it left Tilbury Docks in Essex at 4 o'clock this morning.
Going at speeds of between ten and twenty miles an hour, it took more than ten hours to reach its final destination at the National Grid substation near Grendon in Northamptonshire.
Before arriving in the UK, the transformer had spent 70 days being shipped from Busan South Korea where it was built. Today it travelled along the A13, around the M25 and up the M1, with the final part of the route taking it through the Northamptonshire countryside.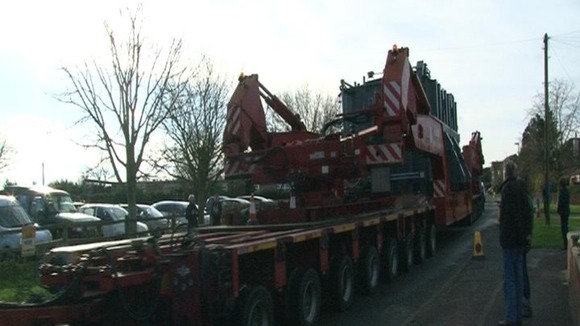 It's a very large load and it obviously requires assistance from the police to get it through the villages of Brafield and Cogenhoe. These loads don't come through all that often, the last one was a couple of years ago. So it is a big operation when it happens; a lot of planning goes into it."
– Ian Ledlingham, Operation organiser