Courting the media: Barristers protest at legal aid cuts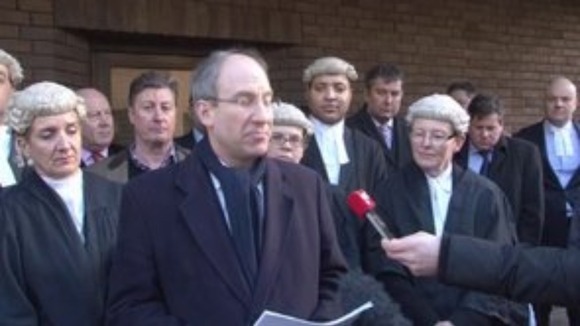 Criminal Barristers normally speak in court, today they stood outside Chelmsford Crown Court.
Their argument: their pay is already too low, government cuts to legal aid due in April will drive people away from the industry and reduce the quality of our criminal justice system.
People are leaving in droves and anyone with talent won't do criminal law and the result of the that will mean less competent people prosecuting and defending so it won't just be defendants losing out.
– Emma Nash, Criminal Barrister

The action was taken over proposed changes to legal aid.

Legal aid costs taxpayers about £2bn every year and the Government has proposed £220m cuts. Lawyers say incomes could fall by 30%.
We have one of the most expensive legal aid systems in the world, and it would remain very generous even after reform. Latest figures show more than 1,200 barristers judged to be working full time on taxpayer funded criminal work received £100,000 each.
– A Ministry of Justice spokesperson

But that number is disputed by Barristers.They arguing that it's only a small handful who earn over £100,000 a year and many juniors take home as little at £10,000 a year.

The coalition government has already reduced legal aid funding in other types of case.

Although it doesn't give advice for criminal matters, the citizens advice bureau in Cambridge is still struggling to cope with a surge in demand after the last round of cuts.
Legal advice shouldn't depend on how much money you have. It's a basic right people should be entitled to.

Solicitors will be less inclined to take on case work and we cannot take on case work.

We are a charity so we cannot afford to do that. I think the level of legal advice people get will go down.

Criminals are likely to get away with things, wrong decisions will be made in courts because people cannot get the right representation.
– Helen Crowther, Cambridge CAB