Family take on challenge to say thank you
The family of a teenager who was airlifted to hospital in a critical condition are running a marathon to raise funds for the Essex and Herts Air Ambulance. 18 year old Jordan White fell 30 ft through the roof of a derelict warehouse in Rowhedge in Colchester last April.
Jordan was left with a severe brain injury, a punctured lung, torn liver and kidney and small bones broken in his back. After spending weeks in a coma and then months in rehabilitation he's on his way to recovery.
"First words were hello mum which was great and then a couple of weeks later it was hello dad and then after that he started to walk a little bit and gradually got to where we are now where he can walk and talk. There's no doubt in my mind that the air ambulance saved my son's life. If you're a parent you know what that means to you."

Kevin Grant, Jordan's dad
– Kevin Grant Jordan's dad
"I'm working hard to get back to how I was. I can't remember the last six weeks before the accident and then all I can remember is just falling and then me going black just before I hit the ground. That's all I can remember about my accident."

Jordan White
– Jordan White

Having never run before, Kevin, Jordan's mum and his uncle will be taking part in the Brighton marathon in April. Jordan's ambition is to be a personal trainer and he is helping his dad with his exercising and healthy diet.

They hope to raise £5000 for the charity, which relies on donations and needs to find £440,000 each month to keep the service running.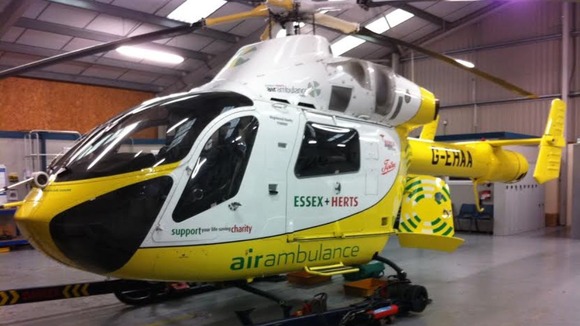 "Essex and Herts air ambulance actually have a doctor and a critical care paramedic on board our helicopters and because of that it meant Dr Ross and paramedic Joe were able to give Jordan an emergency pre-hospital anaesthetic to put him to sleep. This meant they could prevent any further damage to his brain and take over his breathing to protect his airways and then very quickly transfer him to Addenbrookes hospital."
– Helena Morgan, Essex and Herts Air Ambulance Trust