Asylum letters on display
Letters that were stitched into embroidery by a woman who lived in a Norfolk asylum more than a century ago have gone on show.
Lorina Bulwer's words tell of her anger and anguish at being in the Great Yarmouth lunatic ward. They are on display at the town's Time and Tide Museum.
"It is so rare to actually have a voice for people who are inside workhouses. You can really get a picture, she talks about so many individual people with so many stories.

"She is brilliant at writing down where they lived, people they came into contact with. You feel like you are listening to her"
– Ruth Battersby Tooke - Costumes & textiles curator, Time and Tide Museum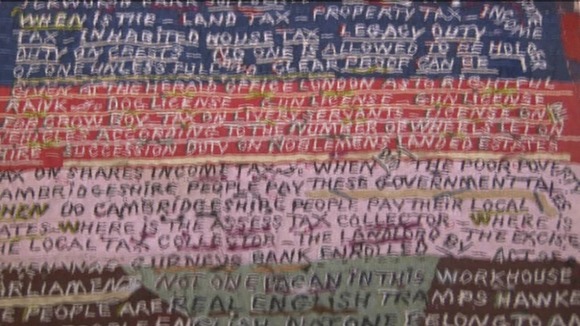 Built in the 1830's, the workhouse in Great Yarmouth would have housed up to 300 inmates at any one time. Lorina worked with her mother at a nearby boarding house before being confined to the lunatic ward of the workhouse. No one yet knows why she ended up there.
Her letters have been uncovered in various parts of the country as have two ledgers from the Yarmouth workhouse.
"The theme of mental health is one that occurs throughout the exhibition in both the historic pieces and the contemporary artworks alongside them.

"If you have a look at the bed hangings in the other room by Anna Marie Brereton, in the 1800s she had given birth to ten children in all.

"Four died in infancy and it was working on these textiles, making these exquisite bed hangings over the next four years that gradually brought her back out of her grief and back into her family and wider community"
– Alison Hall - Exhibition co-ordinator