Designer's concerns after retailer sells prints very similar to her own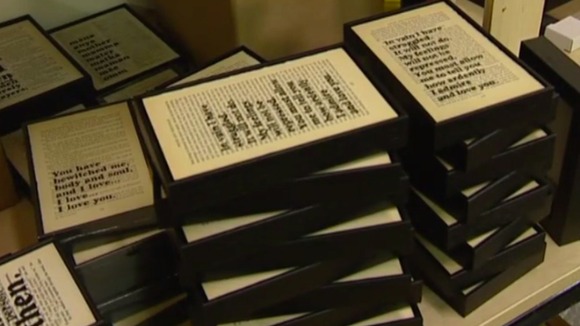 A Northampton designer says she is gutted after a major high street retailer sold prints that she says could be mistaken for her work.
Louise Verity set up Bookishly in 2009. Among their best-selling items are literary quotes printed on pages from a dictionary.
But in November Louise spotted a photograph online of a product that was soon to be released by Marks and Spencer.
She had immediate concerns that the prints were very similar to her own.
"I was disappointed and worried to begin with. I worried that it might affect my business in the sense that the lovely little independent shops that stock my work would decide that they wouldn't want something that was now in Marks and Spencer." _
– Louise Verity, owner of Bookishly

Louise said that, while she had no proof her work had been copied, the font and its positioning on the page were so alike that she believed the Marks and Spencer product infringed her copyright.

Her lawyers agreed, so they wrote to the retailer expressing their concerns.

Marks and Spencer wrote back, saying that the words they had used were different and that Louise's claims of copyright infringement were "unfounded".

They went on to sell the prints in stores and online.

Louise said she was gutted, but feels unable to push the issue further as a legal dispute could be expensive. She hopes that by raising her concerns she is standing up for smaller retailers like her.

Today Marks and Spencer told us that the product had now sold out, and that they had no plans to buy more.
"We investigated this thoroughly and determined that the technique of overlaying text on print is a common design practice. We've already been in touch with Bookishly directly and we're happy to follow up with them if they have any further questions."_
– Marks and Spencer spokesman.