Sandringham gardener praises rescuers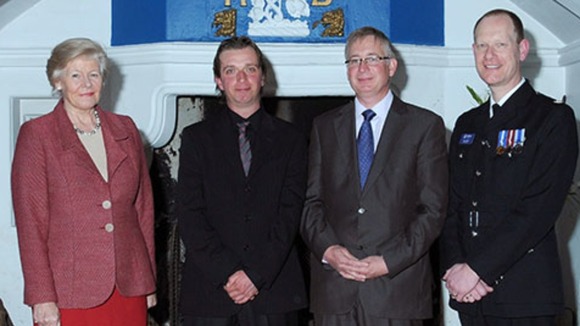 A worker who was critically injured in an accident on the Sandringham Estate has spoken publicly for the first time to thank the police officers and colleague who helped save his life.
Gardener Lee Abel, 33, has described PC Keith Hunt and PC Darren Wynne's actions on that July day as "unbelievable".
Mr Abel was trapped underwater for several minutes when the lawn mower he was riding rolled over and pinned him down during the incident at the Lower Lake on the afternoon of Monday July 8.
He was pulled from the water and resuscitated by the two Royalty Protection Officers and his manager, head gardener Martin Woods.
Mr Abel spent a month in hospital before being discharged and, although he still suffers some symptoms, is well on his way to making a full recovery at home in the Sandringham area.
Last week Lee and his partner Belinda Greenacre were invited as special guests to Norfolk Police's Long Service and Good Conduct Awards ceremony in Norwich to see his three rescuers receive national accolades for bravery.
Speaking before the ceremony, Mr Abel said he had no memory of the event.
"The first I knew about it was when I was told by friends and family in hospital.

"It was as if someone had told me a story and it was hard for me to recognise that it was actually about me."
– Lee Abel, injured Sandringham gardener.

Working with head gardener Mr Woods, the officers rescued Mr Abel from the water and began CPR before paramedics arrived and he was taken to hospital.

The gardener, who now suffers from extreme fatigue as a result of the incident, said his three rescuers fully deserved the recognition.
"Everyone was just fantastic. They are all unbelievable. I owe them so much and it is so hard to describe how I feel.

"They were brilliant - from the moment they saw the mower they, just got in and hauled me out and started to resuscitate me."
– Lee Abel.

His three rescuers were presented with a certificate of bravery by Lady Louisa Spicer from the Royal Humane Society and Norfolk's chief constable Simon Bailey.

The two officers also received a Chief Constable's Commendation.