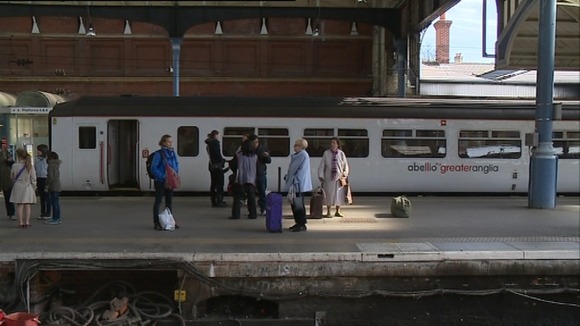 The Department for Transport has announced Abellio will continue to run the Greater Anglia rail franchise until the summer of 2016.
Passengers are being promised more services and better-equipped trains on Greater Anglia which runs from London's Liverpool Street station to major towns and cities across Cambridgeshire, Norfolk, Suffolk and Essex.
The new deal will see more services between Cambridge and Stansted airport, while carriages on trains between London and Ipswich, Norwich and Colchester will be spruced up.
"We have taken a very customer and community-focused approach to the development of this new deal, ensuring that there are tangible benefits for passengers and stakeholders, despite this being a short franchise period, as well as paving the way for further upgrades as part of the longer franchise that will follow from October 2016. Our programme of initiatives includes a major refresh for the intercity trains on the Norwich - London route; a new Cambridge - Stansted service; Sunday service improvements on a number of routes and the start of what we hope will be an ongoing upgrade for rolling stock on the Great Eastern and West Anglia commuter services. Not only will the improvements provide a better service for passengers, they also support economic development and give greater connectivity for local communities, enabling sustainable growth across the region we serve."
– Jamie Burles, Managing Director, Abellio Greater Anglia
"This shows that we are delivering on a better rail service for our constituents. Alongside long-term improvements coming from the Norwich in Ninety taskforce, this announcement gives us some of the important things that passengers need, straight away. In the short-term and the long-term we are working hard for a better, faster and more reliable rail service for our constituents. Better infrastructure will bring more jobs to Norwich over time."
– Norwich North MP Chloe Smith