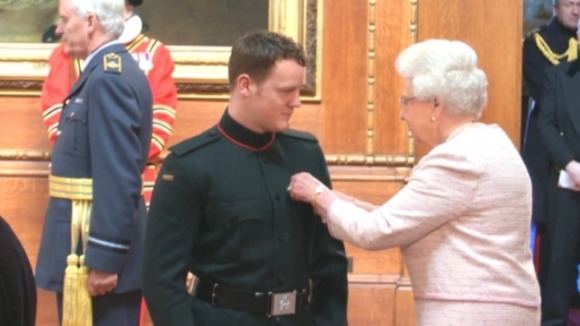 When Michael Swain was 20, life threw him an unenviable challenge. Serving in Afghanistan he was blown up by a Taliban bomb, and lost both of his legs.
For most - the recovery would be daunting enough... but not for Michael. He has spent the past four years fundraising for charity, and has raised more than £250,000. At just 24 years old, his efforts were recognised with an MBE.
"It was a real honour to meet the Queen and receive an MBE of her, yeah it was a really good experience. What we talked about I can't really remember too much, I was just standing there trying not to fall over and trying to just be presentable to her."
– Michael Swain, 3rd Battalion The Rifles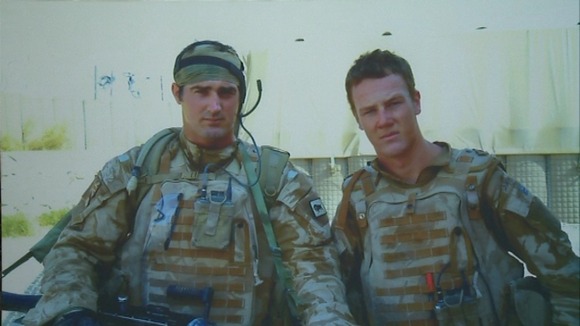 Until six weeks ago Michael, who is from Henlow near Luton, used a wheelchair. But, after a revolutionary operation in Australia he is now walking on prosthetic legs, which join to his thigh bones using titanium rods.
For his partner Jade, yesterday was a proud moment.
"Max, our son, he's never seen him walking and he's just reacted so normal to it and says like "wow daddy's got new shoes" because he's not used to Michael wearing shoes so it was really lovely and he walked so well it was just amazing. It seems impossible that he had surgery so recently."
– Jade Hardiman, Michael's partner

In 2011 we filmed Michael on a 500 mile bike ride from Edinburgh to London. His fundraising has focused on military charities, like 'Coming Home', which provides adapted housing for injured servicemen.

Michael is a busy man - he has set up a gym in Luton, and is still a member of the army. His injuries have inevitably changed his life but, with British troops now withdrawing from Afghanistan, he does not regret the mission.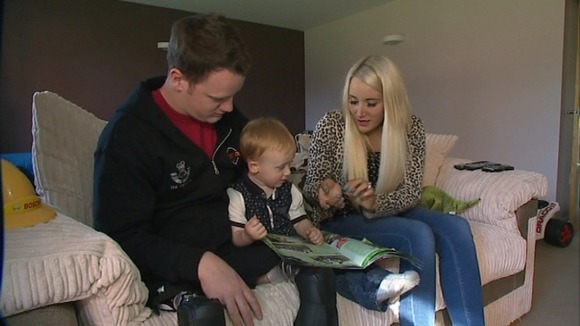 "I feel that what I did was right out there. I was the one that did it. Other people have different opinions and that's good for them but I think it will always be a talked about war, but I think it was definitely for a good cause."
Now, for Michael and his family, it is all about the future. With a wedding to plan, and a new baby due, they have plenty to look forward to.