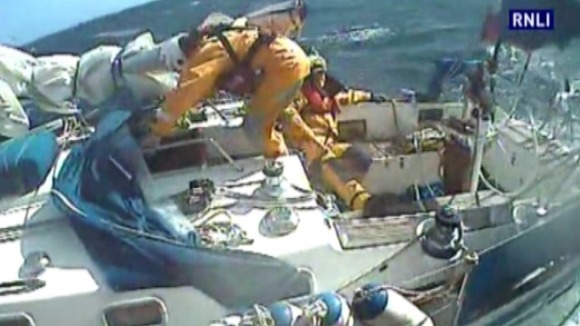 It only took seconds.
But this courageous leap by Lizard lifeboatman Darren Thirlaway ended a horrific ordeal in stormy seas for the crew of this yacht. And probably saved their lives.
Click below to watch the moment Darren decided to jump
"It's the following day that it really hits you, you know you've come through something pretty horrendous.

You know, both of us could have lost our lives out there."
– Andy Nairn, Skipper, Marique

The 40 foot yacht Marique was today anchored on a pontoon in Pendennis marina in Falmouth.

Andy Nairn and his partner Karen were on their way from northern Spain to Falmouth on Saturday.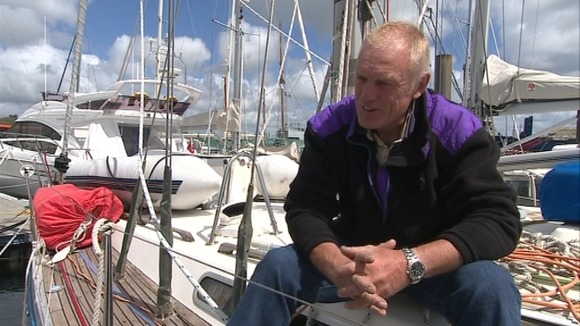 The yacht was crippled after it suffered damage to its rigging off The Lizard.
The Lizard lifeboat went to its aid.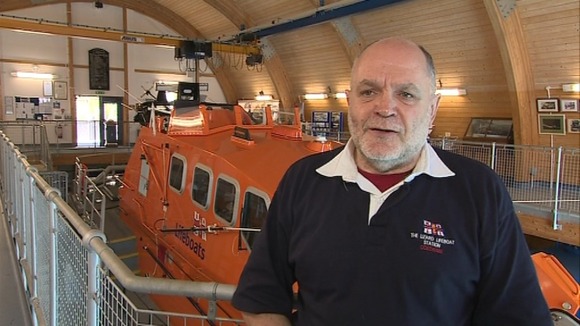 "It was one of our more challenging operations.

When it's flat calm, it's all straightforward, but if you get a big sea running - it makes life a little bit difficult."
– Andrew Putt, Coxswain, Lizard Lifeboat

A decision was made to transfer one of the lifeboat crew to the yacht.

The Marique first ran into trouble nearly 40 miles off The Lizard. The yacht limped along on engine power towards Falmouth, and was then hit by an even bigger wave.

It took five and a half hours to tow the yacht into Falmouth and safety.

It's hoped repairs can be carried out within the next couple of days, and when the wind dies down, the yacht will make its way back to its home port of Lowestoft.

Click below to watch a report from Steve Hardy