Multi million pound centre to open at American Cemetery
by Claire McGlasson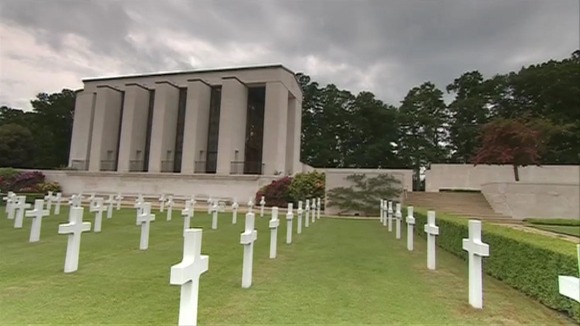 The Cambridge American Cemetery will open its new visitors' centre to the public on Monday. It has taken five years to complete the project, which was built at a cost of £5 million.
Staff have researched the stories of some of the nine thousand American men and women who are remembered at the site.
When the cemetery first opened in 1956 no records were kept of individuals because the American authorities didn't want to single anyone out.
Now their stories are being told for the first time in a museum on site, which includes interactive screens to research the history of America's role in World War Two. Among those remembered, the identical twin brothers who were left and right gunners on a plane that was shot down. The fighter pilot who survived numerous missions but was hit by a car - looking the wrong way after apparently forgetting that UK traffic drives on the other side of the road.
Guide Arthur Brookes says everyone is celebrated equally
"One of the most commonly asked questions is 'who are the most famous people in your cemetery?' We won't answer that because everybody is equal. People often look for one or two particular names like the great band leader Glenn Miller. But I say what about the Red Cross nurse? What about the Texan oil worker? Everyone was a cog in a massive gear wheel."
– Arthur Brookes, cemetery guide

Bruce Phelps, superintendent of the cemetery, said:
"We want to bring the stories to life. I hope that people will come here and look out across the crosses and it will cause them to reflect on the cost of war in human lives."
– Bruce Phelps, Cambridge American Cemetery

Click below to see Claire McGlasson's report