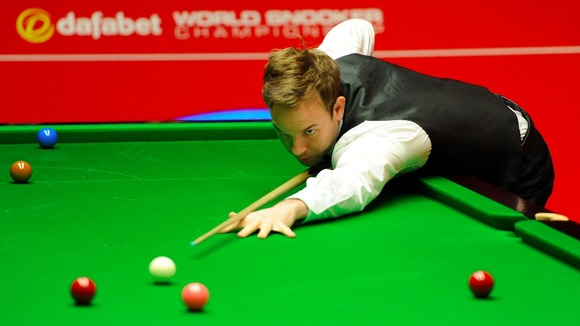 Two-time World Championship runner-up Ali Carter says he's in the biggest health battle of his life after being diagnosed with lung cancer.
World Snooker announced on Saturday, the opening day of the 2014/15 season, that the 34-year-old from Chelmsford will undergo an intensive course of chemotherapy.
Carter, who suffers from Crohn's disease, last year recovered from testicular cancer to resume his career.
He's tweeted to say thanks for the numerous messages of support from fans.
My big match starts tomorrow: Me v Cancer. Going to be a long one but get your money on - I'm up for this one! Biggest match if my life!
Overwhelming amount of messages of good wishes and support. Too many to thank personally but thank you all so much for all your kind words.
Jimmy White, who was diagnosed with testicular cancer in 1995, tweeted his support, as did fellow Essex potter Stuart Bingham .
Absolutely gutted for Ali, praying for you mate
Thoughts are with @thecaptain147 and his family. Keep punching mate. All the best x
Ali is the toughest competitor I know and having spoken to him over the last few days I can assure everyone he has the fight to get through the battle ahead.

"I know that the world will be looking forward to Ali returning to action and I am sure that all of our friends, fans and partners will join with me in wishing Ali a full recovery."
– World Professional Billiards and Snooker Association chairman Jason Ferguson

And two former world champions echoed the sentiments. Shaun Murphy said: "Devastated for @TheCaptain147 We're all behind you mate #fighter" Neil Robertson added: "Shocking news about Ali Carter. Thoughts are with him and his family. Hopefully can make full recovery."

Shocking news about Ali Carter. Thoughts are with him and his family. Hopefully can make full recovery

Carter had been due to play on Saturday in Gloucester, in qualifying stages for the Wuxi Classic tournament, but pulled out.

He is a three-time ranking tournament winner, having landed titles at the 2009 Welsh Open, 2010 Shanghai Masters and 2013 German Masters.Carter lost to Ronnie O'Sullivan in each of his Crucible finals, in 2008 and 2012.

He was diagnosed with testicular cancer last summer but was soon back on tour, and played almost a full season, ending at the World Championship in Sheffield when he beat Xiao Guodong in the first round before bowing out to eventual winner Mark Selby in his next match.

A professional since 1996, Carter is ranked 13th in the world and has been as high as number two in his career. He is also a trained pilot, going by the nickname 'The Captain'.

Snooker has been touched by cancer tragedy in recent memory, with the three-time Masters champion Paul Hunter dying of a rare form of the disease in October 2006, at the age of 27.

The Paul Hunter Foundation is willing Carter to come through his latest fight, stating on Twitter: "Here at PHF HQ we are all sending our wishes to@TheCaptain147 as he faces his battle with cancer."