Heavy rain to come this afternoon. Met Office Yellow Weather Warning for rain
A rather cloudy start with some occasional light rain. As skies brighten after midday some heavy and thundery showers will develop which will give some torrential downpours during the afternoon and into the evening.
Maximum temperature 18°C.
Click below for an animated computer forecast for Friday's rain
Met Office Yellow Weather Warning
There is a Met Office yellow weather warning in place for heavy rain in the southern half of the UK until 9pm on Saturday 28 June 2014
"Showers will become heavy and thundery across southwestern parts of both England and Wales early on Friday, moving northeast to affect much of Wales, the Midlands, East Anglia and southern England during the day. Some reduction in activity is expected on Friday night, before further slow-moving heavy and thundery downpours develop during Saturday, easing from the north later."
– Met Office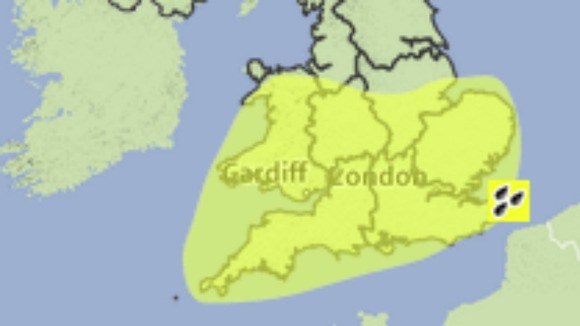 "A slack area of low pressure is expected to extend eastwards across southern UK on Friday and Saturday, bringing with it moist and deeply unstable air. Daytime heating will assist the development of heavy showers and thunderstorms. These are likely to become slow-moving and organised into bands giving some places 15-20 mm of rain in an hour or less and perhaps 40 mm in 2 or 3 hours. Hail and lightning will be additional hazards. As with the nature of showers, some places will escape the heavier ones."
– Met Office Chief Forecaster's assessment

Friday night

The heavy and thundery showers will clear away after midnight with some mist and fog forming as skies clear and winds fall light.

Minimum temperature 11°C.

Saturday

Any mist or fog will clear to leave a bright day with some sunshine but also some further heavy and perhaps thundery showers. These should clear by evening. Light winds.

Maximum temperature 18°C.

Outlook
Fine start on Sunday but a few heavy afternoon showers likely.
Sunny spells and a few lighter showers for Monday and Tuesday. Temperatures near or slightly below normal.