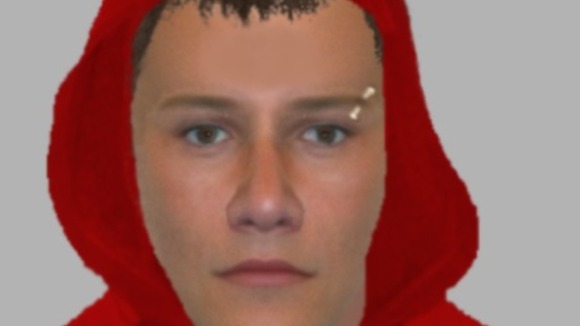 Detectives investigating the murder of student Nahid Almanea in Colchester have issued an efit of a man they would like to speak to in connection with the investigation.
He is the man described as seen running up Hewes Close, away from the Salary Brook Trail at 10.56am on Tuesday, June 17.
He is white, aged between 18 and 25, of medium build and with dark hair. He was wearing a long sleeve plain hooded top that is described as London bus red and dark trousers.
Anyone with any information about this man, or who know who he is should call police on 01245 282103 or Crimestoppers anonymously on 0800 555 111. Crimestoppers has offered a reward of £10,000 to anyone with information that would lead to the arrest and conviction of Nahid's killer.
Det Chief Supt Steve Worron who is leading the murder hunt said
"We are making progress with our investigation into the death of Nahid Almanea. Each time we issue an appeal we get many calls into our incident room and which is helping us to build up a more detailed picture of those who were on or near the Salary Brook Trail in Colchester at the time of her murder.

Two weeks on, my officers have been back to the area near the Salary Brook Trail and to the University of Essex to talk to people who may have been in the area. The information being given to officers is helping to piece together some vital details that will help us to find the person or people responsible for her death.

Following on from the appeals I made yesterday, I have some more people that I'm looking to try and identify today who were on the Salary Brook Trail between 10am and 10.40am on Tuesday, June 17."
– Det Chief Insp Steve Worron, Essex Police

Woman in summer dress

A white woman, thought to be in her early 20s, with light brown hair. She is described as being around 5ft 7ins and was wearing a summer dress and a denim jacket.

Man with backpack and headphones

A white man, aged between 19 and 23-years-old, with blond hair. He is thought to be English and was wearing a backpack and white headphones. Witnesses describe him as looking like a student.

Man/student on the phone

A white man, thought to be a student, who had dark, short hair. He was wearing light trousers and was using a phone.

Man in blue and yellow striped top

A black man who was wearing a forward facing cap and a backpack. He was also wearing a dark blue and yellow striped polo top.