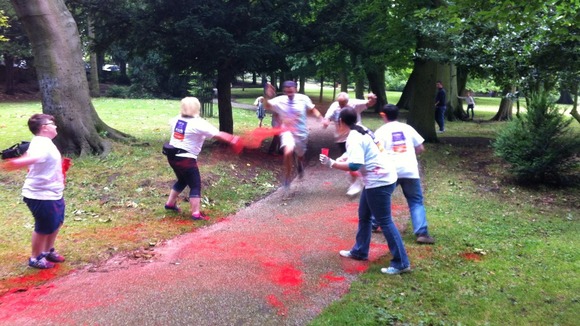 Children and families in Ipswich have taken part in a 'colour dash' to raise money for East Anglia's Children's Hospices (EACH).
The Treehouse Colour Dash was a 5 kilometre charity run in which runners were showered with brightly coloured powder paint after every kilometre, before ending up in a rainbow shower at the end.
Nine year old Mason Fountain from Ipswich officially started the race at the town's Christchurch Park and cheered on his family who were taking part.
Mason has a brain tumour and is the inspiration behind 'Mason's Magic', a charity run by his mum Shelley to raise funds to support others with brain tumours. He receives care and support from EACH, and visits The Treehouse. The Fountain family took part in the race because they said they wanted to give something back by taking part and raising sponsorship.
"From the shrieks of excitement of the runners taking part, the excited and bemused looks from the spectators, through to the explosion of colour at the end of the Dash, it was clear everyone had a fantastic time and enjoyed it as much as we did.

Our dashers, fifty volunteers who helped at the event together with all members of staff are looking forward to, and already planning for, our next Treehouse Colour Dash.

A very big thank you to Kay Fletcher, of Kay Fletcher fitness for doing the warm up, Ipswich Borough Council who allowed us to use the park and helped on the day and Fred Olsen who kindly sponsored the event.

The colour dash shows the local community and local businesses coming together in support of their local children's hospice."
– Patsy Johnson Cisse, EACH Suffolk Fundraiser