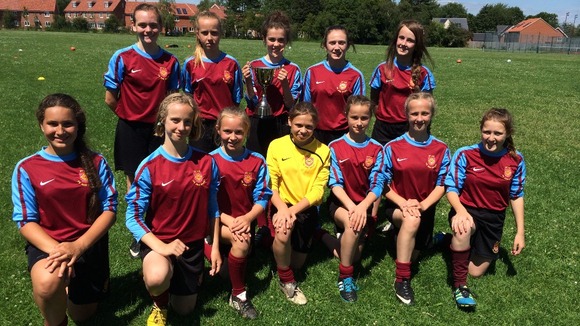 Girls from St Ivo School in Huntingdon have just been crowned the national Under 12's champions after winning the final 2-0 at Bisham Abbey.
It's the first time the competition has been run. The youngsters battled through eight rounds to eventually reach the final against Grey Coat Hospital School from West London.
A number of the girls want to play professionally - some have had mentoring from the Arsenal Ladies team.
Among them is the appropriately named Katherine Speed - she delivered the cross which allowed her teammate Elle Jefferson to score.
But when she visited the Emirates recently, she knew any future career for her would not involve a seven figure salary.
"You want to play the sport but you also want to make a career out of it not having another job to help you through but hopefully it's gaining in popularity and hopefully in the next few years it will become a bigger sport for girls."
– Katherine Speed, Centre forward

There's not just a pay gap in women's football, it's in a different financial universe to the men's game.

A top female super league footballer earns about £25,000 a year. A top premier league footballer gets more than ten times that in a week.

The situation is improving. Pay is gradually rising and International women's games are now broadcast on TV.

The 2012 Olympics also seem to have had some effect, with top female sportswomen like our region's Laura Trott and Victoria Pendleton proving women can draw crowds and sponsorship.

The coach at St Ivo believes her most exceptional players are going to make it to the top.
"They understand that there is a pay difference between male and female but I don't think it's going to put them off in any kind of way. They are sportswomen that is where they strive at school and I think because they want it so much, that is what they will pursue."
– Lisa Trigg, Football coach

Click below to watch Elodie Harper's full report:

ITV Anglia spoke to five times Olympic rowing gold medallist Sir Steve Redgrave and asked him his thoughts on getting girls interested in sport.

Click below to watch the full interview: