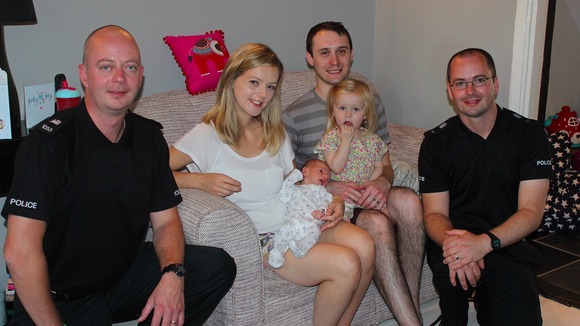 Two police officers working a night shift had to become midwives when a frantic father-to-be flagged them down on the Orwell Bridge in Suffolk.
PCs Jerry Cohen and Andy Masterson, from the Roads Policing and Firearms Operations Unit based at Martlesham, had been dealing with a broken down car in the early hours of July 1.
While they waited for it to be towed away, another car approached and the driver ran towards them asking for help.
Both officers ran over to the car, donned their protective gloves, and came to the aid of 33-year-old Holly Mackie, from the Hadleigh area, who was very close to giving birth.
Within seconds of arriving at the car, the pair helped deliver a healthy baby boy. Rupert William Mackie was born at 12.12am.
PC Masterson said: "This was very much a case of being in the right place at the right time, we just happened to be on the Orwell Bridge dealing with a broken down car when we heard someone shouting."
"Jerry and I are both fathers and have a fair degree of knowledge when it comes to labour but have never been quite so hands on.
– PC Andy Masterson.

Rupert arrived weighing 7lbs 5oz and is a brother for Rose, two.

Speaking afterwards, Andrew Mackie said: "Holly was one week overdue when she started having labour pains. "We took our two-year-old daughter, Rose, to her grandparents in Capel and not long afterwards, when I was driving towards the Orwell Bridge, Holly said the baby was coming."
"It was absolute sheer luck I could see blue lights flashing on the bridge – I didn't care which emergency service it was I just knew I would have to ask for help!"
– Andrew Mackie, father and husband.

The couple thanked the officers for their help and support both on the bridge and later at the hospital.