Babies in Norfolk are helping to spread some festive cheer by visiting elderly residents in care homes across the county.
Read the full story ›
A council in Essex has been accused of ruining Christmas after ordering a festive attraction to close down over safety fears.
Serena Sandhu visited the attraction and sent us this report.
The Christmas Wonderland in Clacton-on-Sea comes with a Santa's grotto and train rides, but unfortunately no planning permission.
It's proved so popular the council says the local roads can't cope with the increase in traffic. But the event organisers are determined to stay open.
Advertisement
Suffolk-born superstar Ed Sheeran has said he would be happy to play the first song at Prince Harry and Meghan Markle's wedding reception.
Read the full story ›
Publishers of regional title Cambridge News have been left red-faced after today's paper was printed missing the front page headline.
Piers Morgan - with his eagle-eyed editorial background - noticed the omission earlier, tweeting a cheeky guess at what tomorrow's headline could be.
Dear oh dear. I have a feeling the next issue's splash might be: 'EDITOR FIRED OVER MISSING HEADLINE.' https://t.co/txHynKMO5G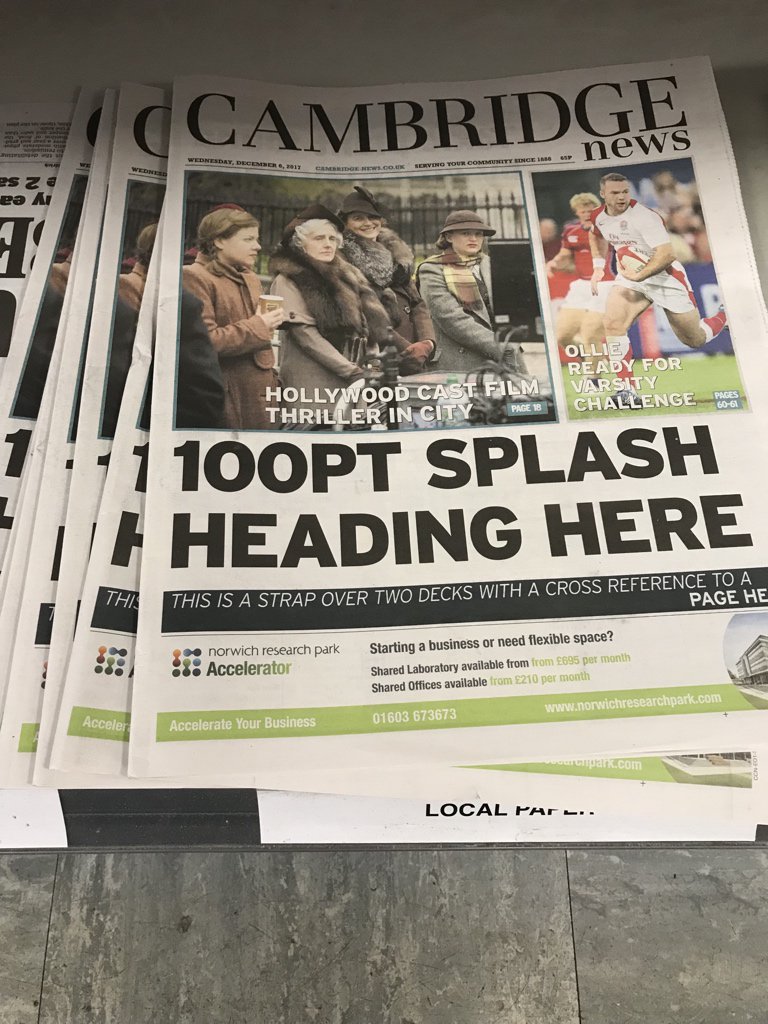 Cambridge News has since apologised to its readers for the mistake.
Due to a technical problem, the main headline did not appear on the Cambridge edition, although the correct one was printed in the Cambourne edition of the paper.
– Cambridge News.
It might not be snowing outside, but that hasn't stopped some families in Colchester from having some wintery fun.
An ice slide has opened in the town's Castle Park. It's 35 metres long, five metres high and said to be the first of its kind in the country.
It's part of Colchester Borough Council's plans to attract more visitors to the town over Christmas.
He is the artist leading a life of grime creating artwork from the mud caked on the back of white vans.
Read the full story ›
Advertisement
An army veteran from Essex has been able to stand for the national anthem for the first time since he was left paralysed nine years ago.
Read the full story ›
A Wisbech woman who runs a hedgehog hospital says we need to do more to help any animals we spot in our gardens at this time of year.
Read the full story ›
The inferno that destroyed Hardingham Mill in Norfolk 50 years ago wasn't as unexpected as you might think.
But that didn't stop it causing plenty of controversy.
The fire was all in aid of the film The Shuttered Room, starring Dame Flora Robson and Oliver Reed.
Fifty years since its release, the movie is getting a special screening in Norwich tonight.
Watch Malcolm Robertson's full report for ITV News Anglia here:
Load more updates