The turkey producer, Bernard Matthews employs 2,000 people in the east. The Unite union says it's a 'worrying time' for employees.
Read the full story ›
Just made it back home from the count. I'm disappointed with the result, which I respect. And I'm going to have a beer.
Oh, and here comes Black Friday.
Advertisement
Harwich and North Essex MP Bernard Jenkin has given his reaction to the reports that Ukip leader Nigel Farage had conceded that Remain may have edged the EU Referendum. Mr Jenkin, who campaigned for Leave, tweeted this rather bemused response...
Conceded, unconceded, reconceded, reunconceded... [please continue the next two words in this sequence.] https://t.co/gkKuVIswXj
All ballot boxes now here at Chelmsford for the local count here . Some counts in Norfolk delayed due to flooding @itvanglia
Fifteen MPs from the Anglia region who were campaigning to leave the EU are backing David Cameron to stay on as Prime Minister.
Read the full story ›
Overall turnout in Kettering is 76.4% @itvanglia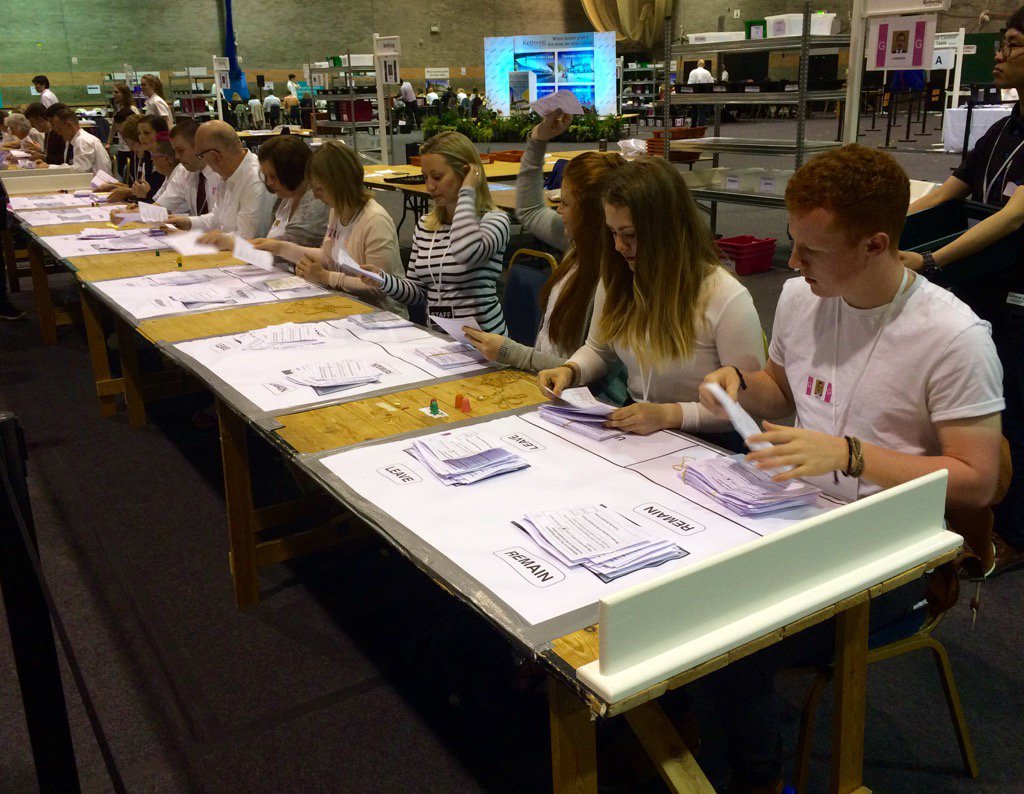 Advertisement
The polls have closed and the votes are being counted. MPs have been giving their reaction, as our future in or out of the EU is decided.
Read the full story ›
South Northamptonshire MP Andrea Leadsom has backed David Cameron to stay on a Prime Minister whatever the result of the referendum.
The Energy Minister was one of the prominent Leave campaigners standing alongside Boris Johnson in two of the main TV debates.
She told ITV News Mr Cameron did "an amazing thing by giving us this referendum" although she admitted he might possibly have regretted that decision.
Prominent pro-Brexit Tories including Boris Johnson and Michael Gove have signed a letter backing David Cameron remaining as Prime Minister after the referendum.
The letter - which was signed by 84 MPs - said: "We believe whatever the British people decide you have both a mandate and a duty to continue leading the nation implementing our policies."
The effort to show a united front comes at the end of a sometimes brutal campaign that saw deep Tory divisions over Europe lead to highly-personalised "blue-on-blue" attacks.
Counting has started after the historic vote to see if Britain is to remain in the European Union or leave.
Read the full story ›
Some polling stations have been forced to close and many others are flooded after heavy rain hit the capital.
Kingston upon Thames Council in south west London has been forced to move two polling stations, Devon Way in Chessington and Shiraz Mirza in New Malden, after they became swamped with water.
Heavy rainfall overnight has lead to us having to move a further polling station in Malden Manor https://t.co/l6QRVm5usL
Several others remain difficult to access because of the ongoing wet weather.
A Kingston Council spokesperson said: "Heavy rainfall over night has resulted in the closure of two polling stations. We had plans in place to minimise the disruption and alternative polling stations have opened nearby."
Load more updates