The Prime Minister David Cameron is visiting Norwich today to announce a new Government push on apprenticeships.
Mr Cameron was joined by Chloe Smith, the MP for Norwich North during his tour of KLM engineering at Norwich airport.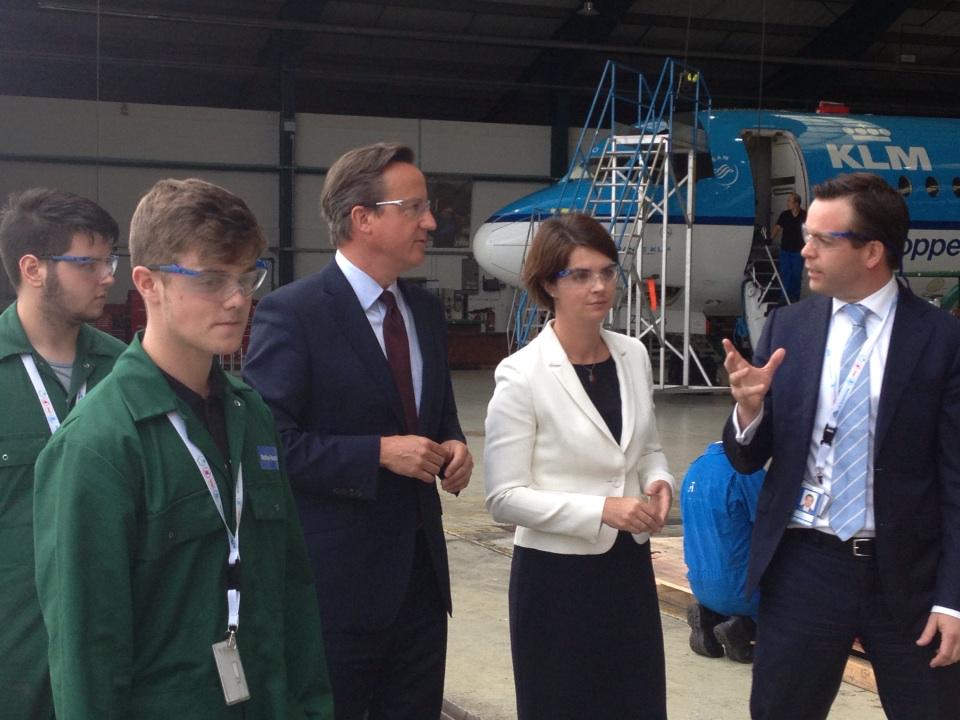 David Cameron wants to create 3 million extra apprentices over the next 5 years, with around 270,000 of them in the East of England.
He said any firms wishing to bid for Government contracts worth more than 10 million pounds, would have to sign up to the plans.
Advertisement
A new study has found that older jobseekers are facing discrimination when trying to find work.
Researchers from Anglia Ruskin University in Cambridge applied for almost two thousand jobs using one CV from someone in their 20s and one for a 50-year-old.
The applicants were identical apart from the ages and the results showed that older candidates were four times less likely to get an interview.
Click below to watch a report by ITV News Anglia's Matthew Hudson.
A small family-run business from Essex says it was 'terribly exciting' to receive an order to provide leather biker suits for Hollywood.
Read the full story ›
The number of passengers travelling through Luton airport increased by 16% over the last year, with more than 1 million people passing through the airport in July.
It marks 16 months of consecutive growth for the airport which has just announced 100 million pounds of investment to increase capacity.
Stansted Airport had its busiest July in seven years last month - with more than 2 million passengers travelling through the airport.
That's up by 12.5 % on the same month last year - making it the busiest July since 2008.
"The beginning of the school holidays and our trio of exciting new long-haul flights have played their part in boosting passenger numbers in July, our busiest in seven years. It's great to see a growing airport and over the last few months we have been growing at double the rate of Heathrow and Gatwick. It's a real boost for the airport and it's a great reflection on the East of England region and its economic vibrancy."
– Andrew Harrison, Managing Director
Advertisement
Nearly 200,000 people in the UK now own a static holiday home says a new report, with Norfolk proving a popular place to own one.
An average of £55,000 is often invested on the getaway space according o Park Leisure who commissioned the report.
Norfolk came in third in the top ten most popular places to invest.
Cornwall
South Hams
Norfolk
Lake District
Pembrokeshire
Gwynedd
East Lindsey
Yorkshire Dales
Cotswolds
Peak District
Over two-thirds of those surveyed in East Anglia saved for years to fund their dream holiday home at 83% and one in three used money they had inherited to buy a second home for holidays.
The average age of someone buying a second home is 37-years with most purchases happening in July.
"We commissioned the Park Leisure report as a first ever piece of research into this industry, revealing the psychological benefits of owning an easily accessible holiday home."
– Gary Molloy, CEO at Park Leisure
A brother and sister from Battlesbridge in Essex have got through to the finals of the county's business awards.
Read the full story ›
Around £5.3 million will be made available to further extend the reach of high speed fibre broadband across Norfolk.
The cash is part of funding BT is making available to extend Broadband Delivery UK projects across the country.
Thousands of tonnes of rubble created when Northampton's Greyfriars bus station was demolished has now been cleared.
The building was brought down in less than 9 seconds, in a controlled explosion in March.
Northampton Borough Council says the site can now be sold to a developer, for retail and leisure use.
"I already know that there's huge interest in the site.

It's four acres of really premium site, so we've got to find something that's absolutely the right thing for Northampton town."
– Jo Lappin, Northamptonshire Enterprise Partnership
Load more updates