A major event aiming to drive forward growth across our region will take place in Milton Keynes today.
The Milton Keynes jobs fair will see 90 top employers, including the Army, and businesses like John Lewis and Ikea, offer around 10,000 jobs to people in the area.
The event will take place at the Centre MK today and tomorrow and organisers are expecting 105,000 people to attend over the two days.
It takes place between 10am and 6pm.
You've probably never heard of Maris Otter barley but chances are, if you like a decent pint of beer, you've most certainly drunk it.
It's a particular type of barley that is grown in North Norfolk and is celebrating its 50th anniversary this weekend with a beer festival at Open in Norwich.
Click below to watch Kate Prout's report.
Advertisement
Stansted Airport is consulting people living under the flight-path on a new take-off procedure which could reduce the effects of aircraft noise.
The airport's management want to know what people think of the 'Performance Based Navigation' technology, which uses GPS to allow planes taking off to keep to their flight paths more accurately.
Results from a trial on two of Stansted's existing departure routes (Clacton 22 and Detling 04) apparently show that 85% fewer people are directly overflown by aircraft using the new procedure.
The airport has been working on the initiative with its consultative committee (STACC), easyJet and NATS (air traffic provider) for more than two years. It is now seeking views from the local community to help shape its final proposal before submitting it to the Civil Aviation Authority for approval.
"We feel the noise and environmental benefits from this project are considerable and urge our local communities to look at the achievements and facts provided in the consultation materials and make their responses accordingly."
– Keith Artus - Software Technologies Applications and Conference Centre (STACC)
Luton Airport has also just started trialling the technology. From this month flights leaving the Bedfordshire airport and heading west will be guided by Area Navigation Technology, known as ARNAV, which draws flights away from more densely populated areas.
The Prime Minister's visit to the East to unveil plans to create millions more apprenticeships.
David Cameron said they would be paid for by a "levy" on large companies that aren't investing enough in staff training.
The Transport Secretary Patrick McLoughlin - also in the region today - said around 30 thousand of those new apprenticeships would be in road and rail industry.
Click below to watch a report by ITV News Anglia's Matthew Hudson.
The Prime Minister has visited Norwich to unveil plans to create millions more apprenticeships.
David Cameron said they would be paid for by a "levy" on large companies that aren't investing enough into staff training.
Kate Prout joined him as he met young workers at KLM in Norwich. Click below to watch her report.
The Prime Minister's been in Norwich to announce plans for 3 million apprentices in the next Parliament. 270,000 will be in the east.
Read the full story ›
Advertisement
Plans to create more than 30,000 apprenticeships in the road and rail industry have been unveiled at an event in Northampton.
The Secretary of State for Transport, Patrick McLoughlin, was visiting the National Training Academy for Rail, which is due to open in six weeks time.
The minister said it would create a larger workforce for the transport industry that was highly skilled and more diverse.
It comes as the Prime Minister David Cameron has been visiting Norwich airport to launch the plans which will see 270,000 apprentices created in the East of England.
More than 30,000 apprenticeship places will be created across the road and rail industry.
More than £70 billion to improve transport infrastructure.
'Most ambitious' investment in rail since Victorian times.
Most extensive improvements to roads since 1970s.
Click below to watch a short clip with the Transport Secretary.
The Prime Minister David Cameron is visiting Norwich today to announce a new Government push on apprenticeships.
Mr Cameron was joined by Chloe Smith, the MP for Norwich North during his tour of KLM engineering at Norwich airport.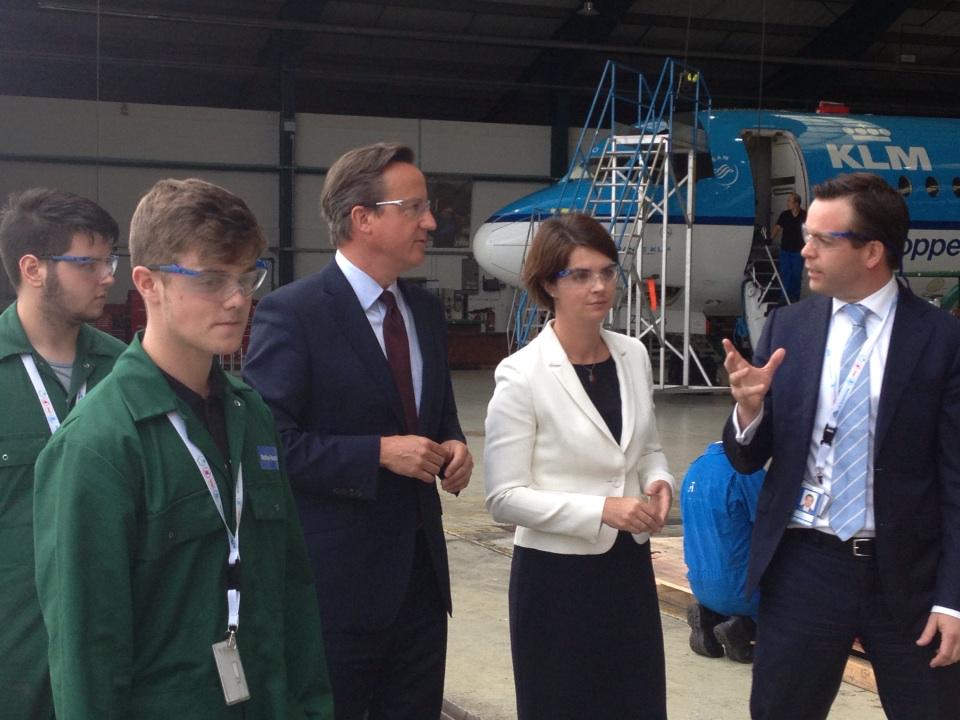 David Cameron wants to create 3 million extra apprentices over the next 5 years, with around 270,000 of them in the East of England.
He said any firms wishing to bid for Government contracts worth more than 10 million pounds, would have to sign up to the plans.
A new study has found that older jobseekers are facing discrimination when trying to find work.
Researchers from Anglia Ruskin University in Cambridge applied for almost two thousand jobs using one CV from someone in their 20s and one for a 50-year-old.
The applicants were identical apart from the ages and the results showed that older candidates were four times less likely to get an interview.
Click below to watch a report by ITV News Anglia's Matthew Hudson.
Load more updates