Norwich is set to host one of the big musical events of 2015 and with it one of the biggest stars of the music scene.
The seven-time Grammy winner is the first headline act to be confirmed for BBC Radio 1's Big Weekend.
The UK's biggest free ticketed festival will take place at Earlham Park in Norwich on May 23rd and 24th.
Taylor Swift says she is excited at the prospect.
Everyone talks about the festivals in England being the best ones you can go to. I feel like I've been missing out – I'm really excited.
– Taylor Swift
DJ Nick Grimshaw announced the news on his Breakfast Show this morning. Norwich based Context will also be on the stage.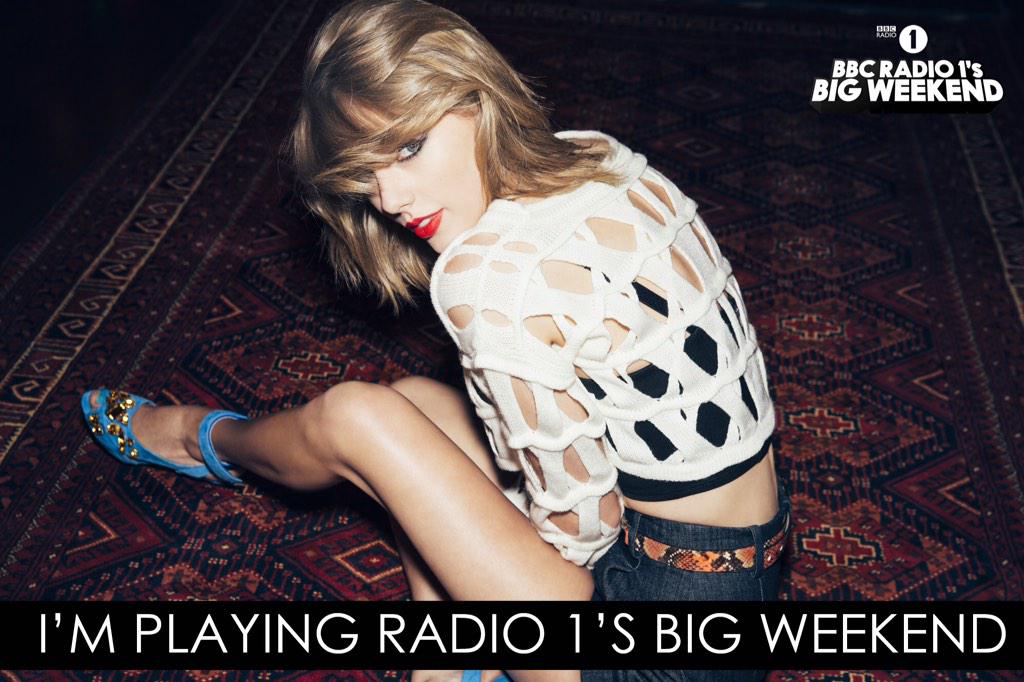 Radio 1 have confirmed that Norwich will host the Big Weekend later this year and the first act to be confirmed is Taylor Swift.
The day will be hosted by Radio 1 presenter and former student of the University of East Anglia, Greg James. Watch his interview with ITV Anglia here.
Advertisement
Finding the perfect wedding venue can sometimes be a bit of a challenge - but a couple from Cambridgeshire haven't had to look far to find their dream location... they're getting married in their local supermarket.
Rebecca Wooller and Blake Green will be tying the knot at Morrisons in Cambourne this March. But why the supermarket setting? Sarah Cooper's been finding out...
A couple will be walking down the aisle at their local supermarket after their first date in the store's café last year.
Read the full story ›
Stephen Fry has shared a picture of him and new husband Elliott Spencer cutting their wedding cake after the ceremony in Norfolk.
Read the full story ›
When Hollywood's biggest stars tread the red carpet at the Oscars next month they will be joined by Mark Coulier from Royston.
Mark is a prosthetics make-up artist who's been nominated for his work on The Grand Budapest Hotel.
Click below to watch our report from Claire McGlasson
Advertisement
A painting which sold in 2013 for £3,500 pounds is expected to fetch £2million at auction next week, after it was identified as a work by Suffolk's John Constable.
It's believed to be one of his preparatory sketches for one of his most known paintings, 'Salisbury Cathedral from the Meadows', which is now in the Tate in London.
It was originally thought to have been painted by a follower of Constable and was sold to a collector.
The painting was restored and underneath was Constable's original work.
Sotheby's will auction the artwork in New York on 29 January.
Paloma Faith has been announced as the latest name to be added to this summer's Thetford Forest Live line-up.
The singer will take to the stage on Saturday July 4, and will perform hits from her album: 'A Perfect Contradiction'.
It's part of a number of outdoor concerts being put on across the UK by the Forestry Commission.
"I am so excited to do the forest tour. I did it before and had such a wonderful time.

We are very lucky in Britain to have such a beautiful and diverse landscape and I am excited to play for you there again. See you all in the summer. "
– Paloma Faith
Ticket's for Paloma's performance go on sale on Friday.
Norfolk actor and television presenter Stephen Fry has married his partner Elliott Spencer. The ceremony was due to take place in Dereham.
Read the full story ›
Norfolk actor and television presenter Stephen Fry has married his partner Elliott Spencer. The pair were due to wed in Dereham Register Office.
Mr Fry posted a picture of the happy couple on his Twitter account.
Load more updates