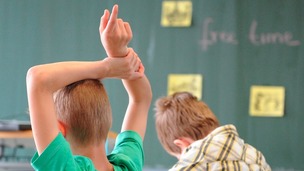 Education Secretary Michael Gove has given the go-ahead to a number of new free schools in the region.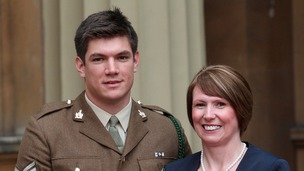 The family of Lance Corporal James Ashworth, who was killed by a grenade blast in Afghanistan, have accepted a posthumous VC.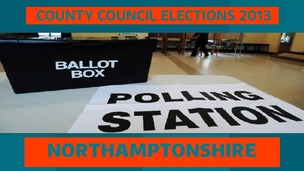 Regardless of the result in Thursday's election, Northamptonshire will have fewer county councils because of boundary changes.
Live updates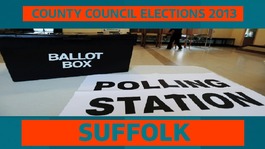 Suffolk County Council has been Conservative-controlled since 2005. On Thursday there were elections for 75 councillors.
Read the full story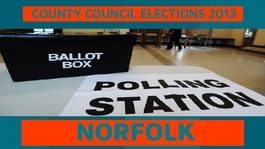 There have been elections for 84 councillors to run Norfolk County Council. The Conservatives have had an overall majority since 2001.
Read the full story
Advertisement
Vote 2013: winners & losers
Tory share of the vote in Essex lowest in 40 years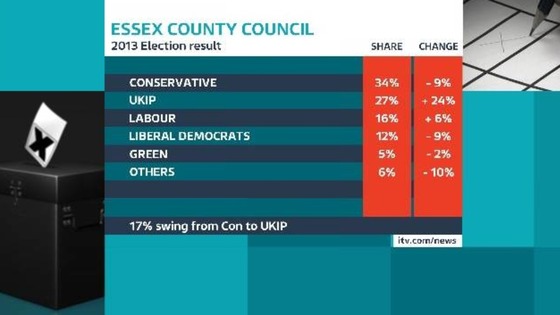 Vote 2013: winners & losers
Worst result for Tories in Essex for more than 40 years
Counting gets underway during Friday morning for most of the region's county councils after voting on Thursday.
The only count completed in this region is in Essex where the Conservatives retained an overall majority but saw their vote share slump to the lowest level since before 1973.
Most of the results are in from Hertfordshire with more Conservative losses but mainly going to Labour.
Counts start during Friday in Cambridgeshire, Norfolk, Northamptonshire and Suffolk.
Vote 2013: winners & losers
UKIP celebrating strong vote in Anglia region
The UK Independence Party is celebrating a strong showing in early results in the county county elections in the Anglia region. UKIP gained 9 councillors in Essex ousting Conservatives who slumped to their worst performance in more than four decades.
Although the party has so far made no gains in Hertfordshire, its share of the vote in many electoral divisions is above 25%.
UKIP's candidate in Old Stevenage Sean Howlett said: "Speaking to the average person on the street they're just sick to death of the tired establishment parties and they want something new, something fresh with a common sense approach to politics."
The out-going leader of Essex County Council Peter Martin said: "On the doorstep we heard a lot of people protesting about the government at a national level and we're suffering obviously as I'm sure the whole country is."
Vote 2013: winners & losers
Tories retain Herts County Council but Labour bounce back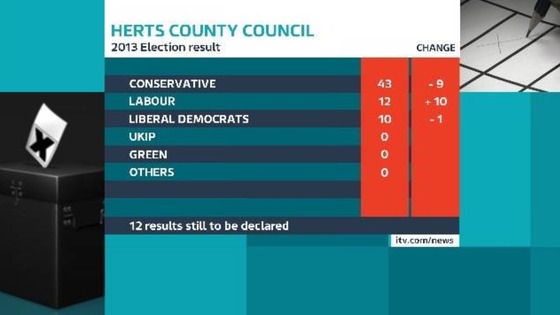 The Conservatives retain control of Hertfordshire County Council although with a reduced majority. Although there are 12 seats to be declared later on Friday, the Tories already have enough councillors to out-vote all the others so they remain in power.
The UKIP breakthrough seen in Essex has not so far materialised although the party was polling 25-30% share of the vote in most divisions. UKIP took 35% of the vote in Bishop's Stortford Rural but the Conservative candidate was 286 votes ahead.
Advertisement
Vote 2013: winners & losers
Tory majority in Essex slashed by UKIP breakthrough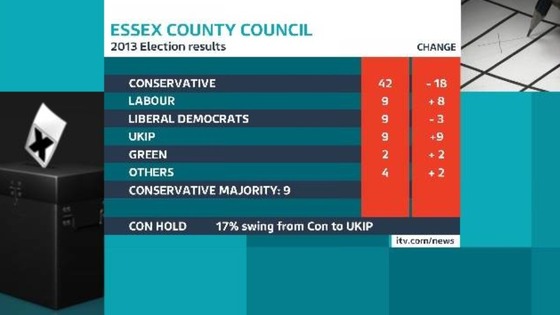 The Conservatives are still in power on Essex County Council but they've been severely battered by Labour and UKIP gains. The Tories retain a working majority but their share of their vote fell below 35% - their worst showing in the county for more than four decades.
Although Labour gained eight councillors on their position at the last election in 2009 it was UKIP who surged ahead. The anti-EU party took the second largest slice of the popular vote with 27% of all votes.
The Lib Dems slumped into fourth place behind Labour.
The Greens will be in County Hall for the first time in Essex after winning in Witham and Rochford.
Vote 2013: winners & losers
Tories retain control of Essex but only just
With just three seats yet to declare in Essex, the Conservatives have retained control of Essex County Council but with a severely reduced majority.
UKIP made eight gains and the Greens two. Labour also bounced back after the poor result four years ago.
38 councillors are required for an overall majority in Essex; the Conservatives currently have 40 seats.
Vote 2013: winners & losers
Lucky seven for UKIP in Essex
UKIP now have seven Essex County Councillors for the following divisions:
Thundersley
Wickford Crouch
Laindon Park & Fryerns
Brightlingsea
South Benfleet
Rayleigh South
Basildon Westley Heights
The surge in support for the anti-EU party will severely dent the Conservative majority on the council which was the safest Tory council in the Anglia region.
Vote 2013: winners & losers
UKIP win fourth Essex County Council seat
UKIP have gained Brightlingsea bringing their total council seats in Essex to four.
At the last County Council election the party didn't win a single seat in Essex and had a 3% share across the county.
Load more updates