Awful incidents here at Westminster. Thoughts very much with those hurt. Atmosphere calm within Chamber. https://t.co/4RYZOM6cTO
Thinking of those injured in London today. Grateful to security at Parliament for all they do to keep us safe.
Eyewitness Frances, who was in the area when the incident happened, told ITV News reporter Emma Murphy that her partner was in parliament.
She said everyone in Parliament is still locked in, and said her partner had been in touch: "He understood that there'd been an incident on Westminster Bridge, and that a police officer had been stabbed.
"He texted to say that he's still in there and they won't let them out, and there's a suspected package in a car, so at the moment, I'm just going to wait for him to come out.
"I don't know how long he's going to be, but it's obviously very important for them to secure the area before they let them out."
Advertisement
My staff and I are safe. Thoughts and prayers with those who are injured and the Police who daily put themselves at risk to keep us all safe
Police and security staff have ensured many of us are safe in difft places round Parliamentary estate. Huge thanks. Awaiting further news.
Locked in chamber. Switching phone off now. Everyone stunned, concerned and hearts filled with sadness for our poor policeman and his family
One woman has died and a number of others have been hurt - including some with "catastrophic" injuries - in the incident on Westminster Bridge, a junior doctor at St Thomas' Hospital has said.
The Liberal Democrat MP for North Norfolk Norman Lamb has tweeted to say he and his team is safe in New Scotland Yard.
My team are ok. Locked in an office in Portcullis House. I'm in New Scotland Yard - panic set in as MPs went to vot… https://t.co/BvLDAdoPZk
Mid-Norfolk MP George Freeman has praised the actions of the Met Police who are helping to coordinate the evacuation of Parliament.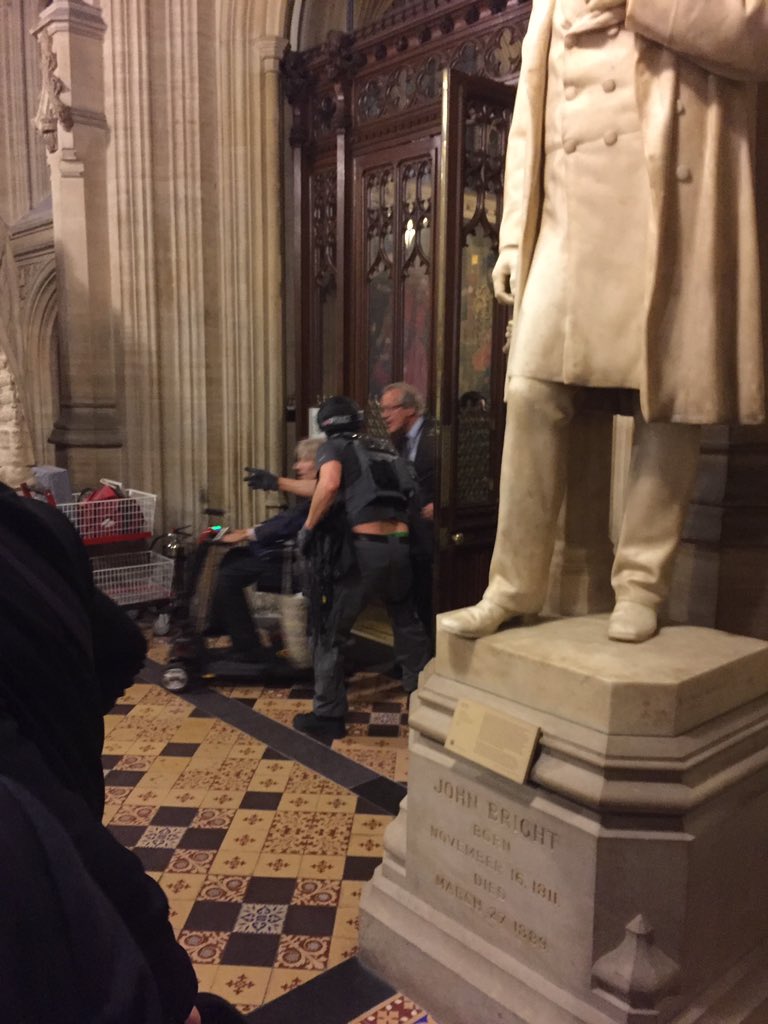 Advertisement
Paramedics are at the scene after a 'firearms incident' outside Parliament.
The crashed car that witnesses said plowed into pedestrians can be seen on the pavement as paramedics treat people at the roadside.
Stewart Jackson has tweeted that MPs are in lockdown under armed guard, after the 'terror incident' earlier this afternoon.
My Parliamentary staff are now safe and I'm in Commons in lockdown under armed guard. Sitting suspended for today. Very sad at loss of life
Scotland Yard said the attack in Westminster was being treated "as a terrorist incident until we know otherwise".
A police officer has been stabbed and his apparent attacker shot by officers in a major security incident at the Houses of Parliament.
Scotland Yard said in a statement: "Police are asking people to avoid the following areas: Parliament Square; Whitehall; Westminster Bridge; Lambeth Bridge; Victoria Street up to the junction with Broadway and the Victoria Embankment up to Embankment tube.
"This is to allow the emergency services to deal with the ongoing incident. "Officers - including firearms officers - remain on the scene and we are treating this as a terrorist incident until we know otherwise.
"We thank the public for their assistance."
As parliament remains in lockdown amid a continuing security incident, paramedics could be seen outside treating two people.
It is unclear who they are or how severe their injuries are.
Load more updates