National Trust clean up
A mammoth window cleaning exercise is going on at the National Trust property Blickling Hall in north Norfolk. It means removing 12 ancient stained glass panels for professional cleaning before they're put back again.
Stately home cleans ancient stained glass windows
Twelve ancient stained glass panels are being cleaned at Blickling Hall in Norfolk. Watch Natalie Gray's report.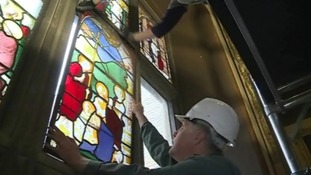 Experts have begun the task of cleaning 12 stained glass windows at Blickling Hall in north Norfolk.
Read the full story
Advertisement
Back to top