New beer bottling factory
Brewer Carlsberg has opened a new bottling plant in Northampton.
Multi-million pound investment in bottling plant
The Brewer Carlsberg has invested 60 million pounds at it's UK headquarters in Northampton.
It's opened a new bottling plant called the Carlsberg Cube which will create 30 jobs as part of the town's Enterprise Zone.
New Carlsberg bottling factory
Russell Hookey speaks to the leader of Northampton Borough Council on the day Carlsberg unveil their new bottling factory.
Advertisement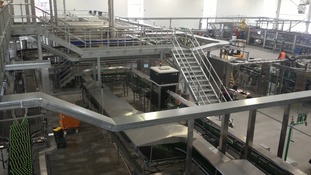 Back to top