U's can secure safety
Colchester United assistant manager Mark Kinsella is hoping their League One status can be finally be confirmed on home soil at the weekend
Colchester United assistant manager Mark Kinsella says U's control their own destiny.
Colchester United keeper says the team never lost faith in their own ability.
Sam Walker, who's on loan at Colchester from Chelsea, said that the players kept believing in themselves particularly during their bad run.
The positive thing for us is we haven't let our heads drop with the results because we have been churning out the performances. We have been playing well. And we know we have got goals in us.

I try and learn off every experience in football. I've had a couple of relegation battles before, as have a few of the players in the dressing room. So we're all sticking together.

"Obviously every game has a bit of pressure on it, non more so than Saturday."
– Sam Walker
Advertisement
Colchester assistant manager Mark Kinsella says Shrewsbury will be a tough test.
"It's an opportunity we've put ourselves in. It's a job that we can do ourselves rather than count on other results".
The threat of relegation became a big issue for the U's after they suffered a club record nine straight league defeats. But Kinsella believes the players are better for the experience.
They've proved that they can respond. When a new manager first comes in they normally get a run of games straight away which gives them a

confidence boost.

We went through that run where we couldnt get a win but our performances weren't that bad. We got done a couple of times when we weren't good enough.

Other than that we'd played well but didn't have the luck.

"It shows the character in the lads. They've got good confidence in themselves within the group and as individuals.

But it's also down to the gaffer who's taken the heat off them and told them to concentrate on what they're doing."
– Mark Kinsella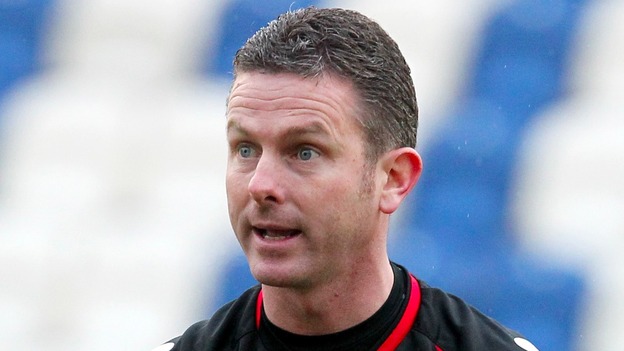 Colchester United assistant manager Mark Kinsella is hoping their League One status can be finally be confirmed on home soil at the weekend.
The U's are five points above the drop zone with two games left. A win over Shrewsbury Town on Saturday will secure their safety at the expense of Scunthorpe.
"It's in our own hands," said Kinsella, who attended the pre-match media briefing with manager Joe Dunne away for family reasons.
"We don't want to be going up to Carlisle next week looking to get something."
Back to top