A-level results out
Students across the country have been receiving their A-level results and finding out of they've made the grade for university.
National
The proportion of A-levels awarded at least an A grade has fallen for the second year in a row, official figures showed today.
In total, 26.3 percent of entries scored an A or A* this year, down from 26.6 percent in 2012 - a drop of 0.3 percent. It is believed to be the second biggest fall in the history of A-levels.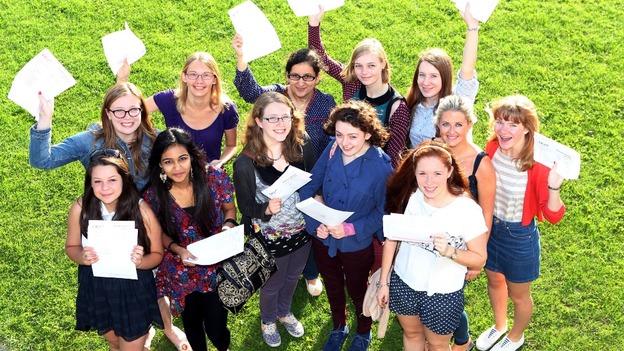 The A*-A pass rate fell for the first time in more than 20 years last year.
The latest drop comes amid rising numbers of teenagers taking A-levels in science and maths.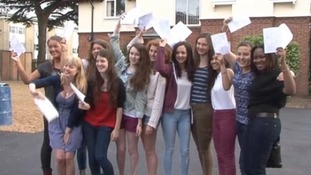 Universities across the East of England are dealing with thousands of calls from students trying to find places.
Read the full story
Advertisement
Wales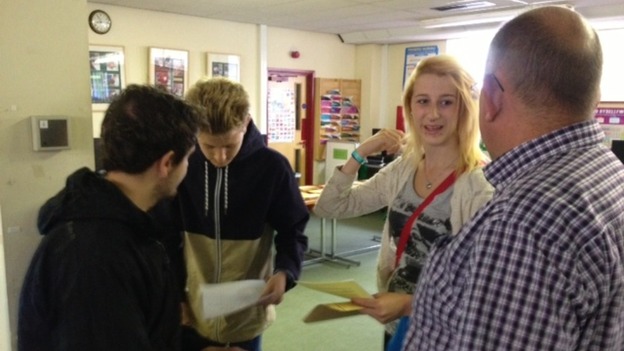 West Country (W)
Figures show around 345,300 student applicants have been accepted to their first choice of university.
A further 98,740 applicants are awaiting results or decisions, while 145,730 are eligible for clearing - the process that matches students without places to courses with vacancies.
The gateway to higher education swings open for many people today based on these results - congratulations to all of them.

Demand for higher education has recovered after a dip last year and universities are keen to accept qualified applicants.

For some, that means going through clearing where there are plenty of high quality vacancies. The Ucas website has all the information you need.
– Mary Curnock Cook, Chief Executive, Cheltenham-based UCAS.

Students waiting to learn about university places can check whether they have been accepted by logging on to the Track service on the UCAS website.
Wales
Almost 36,000 students entered A Level examinations this year and 97.6 per cent achieved A* to E grades.
The Joint Council for Qualifications says the pass rate remained in line with that of 2012, with the percentage of candidates gaining A* grades also stable at six per cent.
The percentage getting A or A* is down for the fourth successive year at 22.9 per cent, compared with 23.6 per cent last year. It was 25 per cent back in 2009. Girls continue to outperform boys with 98.1 per cent of girls achieving A* to E grades, compared to 97 per cent of boys.
A total of 10,362 students completed the Welsh Baccalaureate, with 82.7 per cent of candidates awarded the Advanced Diploma, down slightly from 82.8 per cent last year. The number of students receiving the Advanced Core Certificate rose from 87.6 per cent last year to 88.4 per cent.
National
The Government needs to "give more thought" to the students who did not get A-levels or equivalent qualifications, a leading teaching union has said:
We hope students get the grades they need tomorrow to enable them to go to university, get a training place or find a good job.

But we fear for those who don't, because their prospects don't look rosy at a time when nearly a million 16 to 24-year-olds are out of work.

All young people need the chance to show what they've learnt, whether they want to go to university or not, but these new exam proposals won't let them do that.
– Nansi Ellis, head of education policy at the Association of Teachers and Lecturers (ATL)
Advertisement
Wales
Education Minister Huw Lewis AM was at St David's College in Cardiff this morning to congratulate pupils opening their results.
Learners here at St David's College, along with all others across Wales, deserve to celebrate their results today.

They have worked incredibly hard and deserve credit and praise for what they have achieved. Parents and teachers should also be recognised and applauded for the support they've offered learners along the way.

This is a good set of results. The A level pass rate in Wales remains high and we are seeing steady progress in a number of different subjects, with an increasing proportion of grades awarded at grades A* - C.
A Levels remain highly respected qualifications and it's clear, particularly in terms of the STEM subjects, that our students are now starting to think further down the line about the kind of skills and qualifications they'll need for entry into Higher Education or employment.
– Huw Lewis AM, Education Minister
Load more updates
Back to top