Hare coursing crack down
A new campaign to stopped hare coursing in Suffolk is being launched today. Anyone caught participating in the illegal blood sport is being warned their vehicles can be seized and crushed.
Police forces in our region have launched a fresh campaign to tackle illegal hare coursing.
They say the activity - where dogs are set free to chase hares - is becoming more common here, and that some coursers have threatened landowners with violence.
Now police from Suffolk, Cambridgeshire and Lincolnshire have got together to launch Operation Galileo: and they are warning they will get tough with anyone they catch.
Four police forces have teamed up to launch a high profile campaign against hare coursing.
Cambridgeshire, Lincolnshire, Norfolk and Suffolk forces officially launched Operation Galileo today.
Click below to watch Matthew Hudson's report:
Advertisement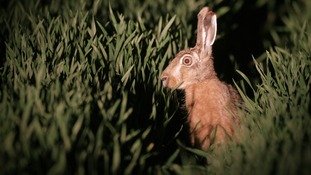 Back to top