Flooding hits the East of England
The big clean up is underway after one of the biggest storm surges since 1953 hit the region last week. Thousands were evacuated from their homes and power was lost in many parts of the region. Transport networks also suffered.
National
Train services between Lowestoft and Norwich and Ipswich have been suspended for reasons made clear in the photo below: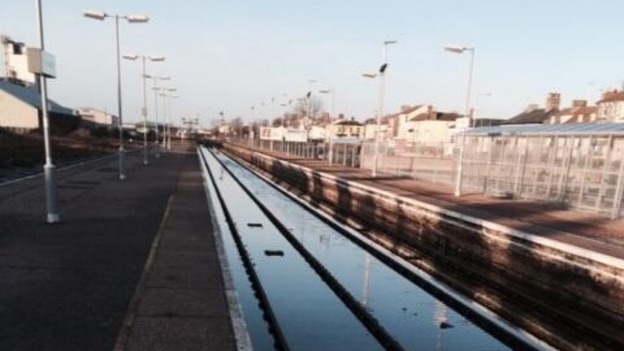 Read: Lowestoft high street transformed into a river
People who evacuated homes prior to flood are advised, as a precaution, not to return home until after high tide this lunchtime. #floodaware
Advertisement
National
#FloodAdvice No further evacuations planned. All people evacuated last night can now safely return home. Thanks again for your support.
Properties in the immediate vicinity of Southwold Harbour in Suffolk are being evacuated again because of rising sea levels.
Around 300 residents were also told to evacuate the area yesterday.
Thousands of fish are being evacuated from a sea life sanctuary following last night's flooding.
Hunstanton Sea Life Sanctuary was flooded after the sea breached defences.
The fish are being moved to Weymouth in Dorset. The sanctuary's penguins are also likely to be moved until power is restored.
---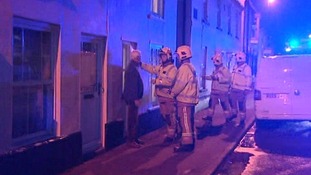 Thinking about returning home after the floods? Get the latest advice from Suffolk Coastal District Council.
Read the full story
Advertisement
The number of severe flood warnings issued by The Environment Agency is falling. There are currently 17 in place for the Anglia region.
A severe flood warning means there is danger to life.
At the height of the tidal surge last night there were around 40 severe flood warnings in place.
There are also 89 flood warnings, which means flooding is expected and 18 flood alerts, which means flooding is possible.
More than 600 people made use of the various rest centres around Norfolk after homes were evacuated.
Many road closures remain in place across the county due to the flooding. Including:
West Norfolk:
Bridge closures at Wiggenhall St Germans (due to cracking) and Purfleet Place.
North Norfolk:
Mill Common Road, Walcott Road, Keswick Road, Bacton Road, at the Lighthouse Inn, Walcott, and Beach Road, at Cley, up towards Salthouse are all closed.
King's Lynn:
King Street closed at Tuesday Market Place.
Emergency services across the Anglia region say the emergency response to the floods has gone well, but warn the danger is not yet over.
The risk of flooding remains at high tide today, particularly in areas that have already suffered flood damage.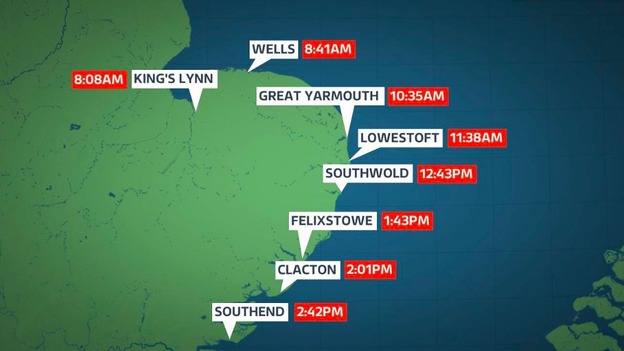 The emergency services in Suffolk had a busy night dealing with flooding incidents.
The county's fire service attended 18 incidents and rescued 27 people.
Suffolk Police Assistant Chief Constable Tim Newcomb, said: "The multi-agency responders to this incident have been working incredibly hard throughout the night to minimise the risk to Suffolk residents. It's not over yet.
"There is always an element of uncertainty when trying to predict the natural environment but we will keep the public informed about our plans and approach. At the same time we also need to start to think about what needs to be done to clear up."
We want to ensure that our plans for the next 24 hours are appropriate in order to address the next two potentially significant tide levels which will be at lunchtime and midnight.
– Tim Newcomb, Suffolk Police
Load more updates
Back to top