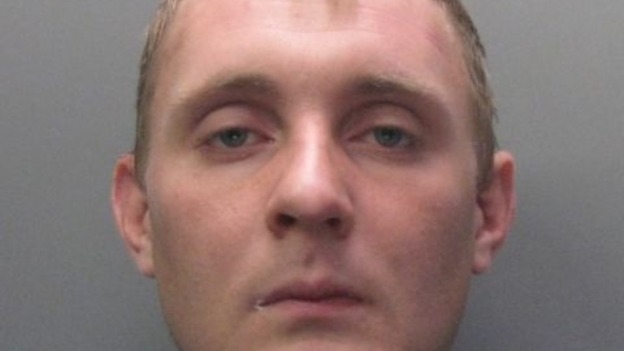 A driver from Cambridgeshire who crashed a school bus while high on drugs has been jailed.
Levi Pryke, 25, of Dartford Road, March, was arrested after students reported his erratic driving to staff at Peterborough Regional College on September 11.
He pleaded guilty to dangerous driving at Peterborough Crown Court and was sentenced to six months in prison and disqualified from driving for two years, Cambridgeshire Police said.
Pryke was driving the single decker coach from Earith to Peterborough with students on board at the time of the offences.
He took a wrong turn before colliding with a parked Ford Focus. He carried on but later crashed into a parked Renault Kangoo van, the force said.
One student described the incident saying there was a "loud scraping and crunching sound and the bus shuddered".
Along the way, Pryke also missed two bus stops, forcing the children to walk down the road to board.
When officers arrived at the depot they found Pryke's speech was mumbled and his eyes were glazed.
A blood test was carried out and traces of cocaine, cannabis and benzodiazepines were found in Pryke's blood.
PC Paddy Reeve, from the force's roads policing unit, said: "We will not tolerate drug driving and will prosecute anyone who gets behind the wheel with drugs in their system.
"His arrest on the day may have saved the life of another road user or member of the public as driving while under the influence of drugs will increase the risk of having an accident.
"Pryke was in a position of substantial responsibility with students as young as 16 years old and I'm glad to see that he has been given a custodial sentence and banned from driving."