Boy helps others with eating disorders
A teenage boy who struggled with an eating disorder is helping other young people. Kyle Carter developed the illness in primary school, after bullies mocked him for being overweight.
A nine-year-old boy seriously injured during an incident on the A47 at Tilney All Saints, Norfolk, remains in a critical condition at Addenbrooke's Hospital in Cambridge.
Sebastian Goold from Wansford, near Peterborough, was travelling with team mates from Stamford Rugby Club from a mini-rugby tournament at Holt, north Norfolk, at 3.45pm on Sunday, when he fell from an exit door on the coach, sustaining serious injuries.
"We would like to pass on our gratitude and thanks to friends and associates at Stamford Rugby Club, and to the wider rugby family, for their well wishes and prayers at what is a deeply distressing time. We have received further messages of support from lots of other people, wishing Sebastian well, and these too have been gratefully received.

"However our focus, at this time, remains on keeping a vigil at Sebastian's bedside and we ask that we are left alone to deal with this as a family and that the media accepts this as our only, but sincerest, statement on the matter."
– Nick and Tracey Goold, Sebastian's parents

The police investigation continues with an examination of the coach due to commence today.
Eating disorders are perceived to be something that affects only women, but up to 25% are male.
Click below to watch an interview with Leanne Thorndyke from the charity Beat that helps people in the East of England with eating disorders.
Struggling with an eating disorder?
NIWE Eating Distress Service: A North East charity providing support and signposting, including a telephone helpline, support meetings, training and information.
Contact: 0191 221 0233 or enquiries@niwe.org.uk
Beat: A national charity providing helplines, online support and UK-wide self-help groups.
Adult helpline (for anyone 18 and over): 0845 634 1414. Monday to Thursday 1.30pm – 4.30pm. Email help@b-eat.co.uk
Youthline (for those 25 and under): 0845 634 7650. Monday to Thursday 1.30pm – 4.30pm.
You can also text the Youthline on 07786 20 18 20. Email: fyp@b-eat.co.uk
Men Get Eating Disorders Too: A national charity providing support specific to the needs of men with eating disorders.
Advertisement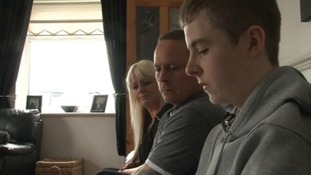 Eating disorders ruined years of Kyle Carter's life, starting when he was just 11 and bullies at school mocked his weight.
Read the full story
Back to top