Anglia Weather
The latest weather forecasts and weather information for the Anglia region.
Parts of the region have had flurries of snow today. Parts of Essex, Cambridgeshire and Norfolk reported brief falls. These pictures were taken at Kelling Hospital at Holt in North Norfolk.
There were heavy downpours of rain elsewhere - leaving spectacular sights in the sky. These rainbow pictures were sent in by Adele Price from Bradwell near Great Yarmouth. You can get the full forecast here.
The risk of snow has been forecast for some parts of the Anglia region overnight Tuesday into Wednesday.
The Met Office computer animation below shows the areas at risk of snow marked in white. The blue areas are where rain is expected to fall.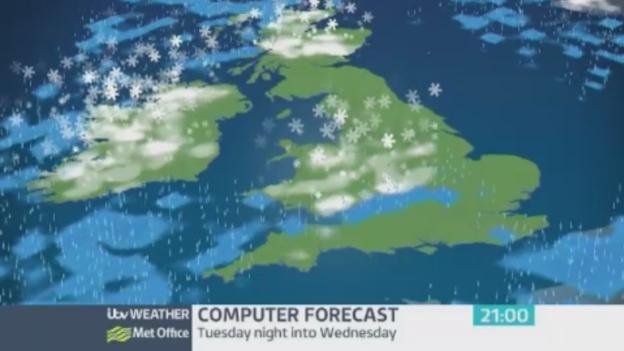 Some places could see wintry showers overnight with slight accumulations in places. For instance, there could be a couple of centimetres of snow on the higher ground of the Chilterns around Luton and Dunstable.
Other showers will be bit and miss with some areas missing them. There may be a few slushy accumulations by the Wednesday rush hour but any snow is not expected to stick around.
Advertisement
Potentially damaging wind gusts of more than 60 mph have been recorded in the Anglia region during Saturday morning and further squally winds are expected as a weather front crosses the area.
Winds were gusting at 61 mph at Wittering in Cambridgeshire and Marham in Norfolk at 10am on Saturday.
A peak wind gust of 58 mph was recorded at Weybourne on the north Norfolk coast at 9am on Saturday. Sustained winds across the region are also high at 25-40 mph.
Highest wind gusts in the Anglia region up to 7am on Saturday
56 mph in Weybourne, Norfolk
53 mph in Wittering, Cambs
52 mph in Bedford
48 mph in Shoeburyness, Essex
47 mph in Gorleston, Norfolk
47 mph in Wattisham, Suffolk
47 mph in Walton-on-the-Naze, Essex
There was a wind gust of 96 mph at Lerwick in Scotland and wind gusts have been exceeding 100 mph on the Scottish mountains.
It has been an exceptionally mild night for January with temperatures even as high as 14°C at midnight. That's similar to the average daytime maximum usually recorded in April in the Anglia region.
A Flood Warning has been issued by the Environment Agency for the River Wid from Ingatestone to, and including Writtle.
The Agency says river levels continue to rise slowly from Saturday's rainfall and that flooding is expected for Stock Lane, Ingatestone is at risk and properties at Hylands Mill and around Writtle Bridge.
Over the next 24 hours the forecast is for no significant rain and river levels are expected to fall.
Advertisement
A Flood Warning has been issued by the Environment Agency for the North Bank Road alongside the River Nene, east of Peterborough and west of Dog-in-a-Doublet Sluice.
Flooding is expected for the North Bank Road alongside the River Nene to the east of Peterborough and the West of the Dog-in-a-Doublet Sluice during times of tide lock.
There are also more than a dozen Flood Alerts in force across the Anglia region.
After a night of heavy rain and, in some places, snow, rivers have been put under strain. Flood warnings have been issued by the Environment Agency in parts of Cambridgeshire.
More than a fortnight's worth of rain fell in some areas in just 12 hours making it the wettest day since August.
In the 24 hours to 9am on Saturday, Holbeach in Lincolnshire had 28 mm (1.1 inches) of rain while Norwich recorded 27 mm.
Ellington, Hamerton and the Alconburys
Flooding is expected for Hamerton, Upton, Alconbury, Alconbury Weston and Ellington
An overnight flood warning on the Chediston watercourse at Halesworth was lifted at 9.35am on Saturday.
There are also several of the lower level Flood Alerts in place on rivers in Cambridgeshire, Norfolk and Suffolk.
Load more updates
Back to top
Latest ITV News reports
A mostly dry night with some clear skies allowing a touch of frost to form in places. Increasing cloud from the west tomorrow.

It's been the coldest week in the Anglia region since January 2013 with temperatures dipping close to -8°C.