Anglia Weather
The latest weather forecasts and weather information for the Anglia region.
It's a breezy start to Friday in the Anglia region although winds are set to die down through the morning.
The winds have been gusting close to 50 mph.
Highest gusts in the Anglia region between 5am and 7am on Friday 12 December
47 mph at Weybourne, Norfolk
46 mph at Wittering, Cambridgeshire
43 mph at Walton-on-the-Naze, Essex
39 mph at Wattisham, Suffolk
The highest wind gust in the UK at 7am was 77 mph at The Needles on the Isle of Wight.
The Met Office has updated its yellow weather warning for strong winds in the Anglia region on Friday.
Winds could gust at 50-70 mph especially near the coast.
The Met Office says the public should be aware of the risk of damage to trees, disruption to travel and possibly to power supplies.
The warning is in force from 0010 hrs to 0900 hrs on Friday 12 December
Advertisement
Temperatures have peaked at just 3°C across large parts of the Anglia region this afternoon on what may be the coldest day since spring 2013.
The cold air over the east of England this afternoon has its origins from the near continent and it has been kept chilled underneath thick, low cloud.
Whilst today's temperatures are below the December daytime average of 7°C, it is not especially unusual to experience this kind of chilly, dull weather in winter. The fact that it is likely to be the coldest day since spring 2013 is more indicative of the consistently mild weather last winter than anything else.
The Met Office has issued a yellow weather warning for fog across the Anglia region on Saturday night into the early hours of Sunday.
The warning is valid until 6am on Sunday 30 November 2014
The Met Office says: "Patches of fog already forming will become more widespread during the rest of Saturday evening and into the early hours of Sunday with the visibility falling to less than 100 metres in places.
"Later in the night the fog will tend to lift onto hills, before clearing from the northwest as the breeze increases."
Advertisement
Monday 1 December marks the start of the meteorological winter but why do winters in the UK vary so much year to year, from mild to cold and from wet to dry?
In this video, ITV Weather Forecaster Aidan McGivern examines the main global influences of the UK's weather during the coldest season of the year.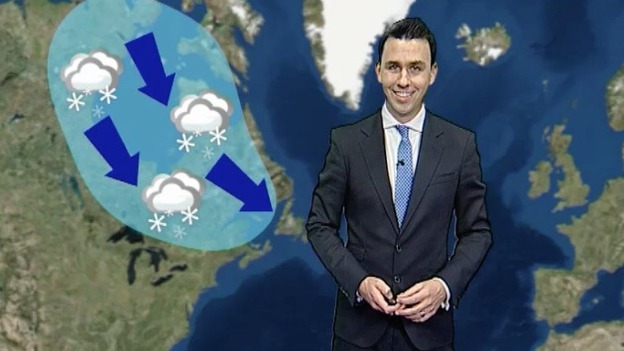 Load more updates
Back to top
Latest ITV News reports
Cloudy skies with a southeasterly breeze picking up and rain reaching western counties by dusk, perhaps snow in places later.

The Met Office has issued a yellow weather warning for the risk of rain turning to snow later on Boxing Day in parts of the Anglia region