Video courtesy of Hayley Shireen
Drivers are being warned of delays on the A11 northbound in Cambridgeshire due to a major bus fire.
It happened between Worsted Lodge and Six Mile Bottom near Duxford.
One lane is closed while the fire service deal with the incident.
The family of a young beauty therapist who was killed by a drunk driver on the A11 in Suffolk is calling for sentences to be tougher.
Read the full story ›
Advertisement
A fire at a petrol station in Suffolk has caused major disruption on the A11 this morning.
Emergency services have been on the scene at the Barton Mills roundabout since just before 7am today (Saturday).
The blaze broke out in the Esso garage shop and fire crews worked quickly to prevent it spreading to the forecourt and fuel supply.
The A11 had been closed in both directions but has since reopened northbound, with just one lane still closed southbound.
Miraculous no one was hurt. #A11 likely to be closed for several more hours as cars and low loader are recovered fr… https://t.co/JfX9drwwxS
The A11 near Thetford in Norfolk is likely to remain closed well into this afternoon after a car transporter crashed spilling a number of cars on to the road.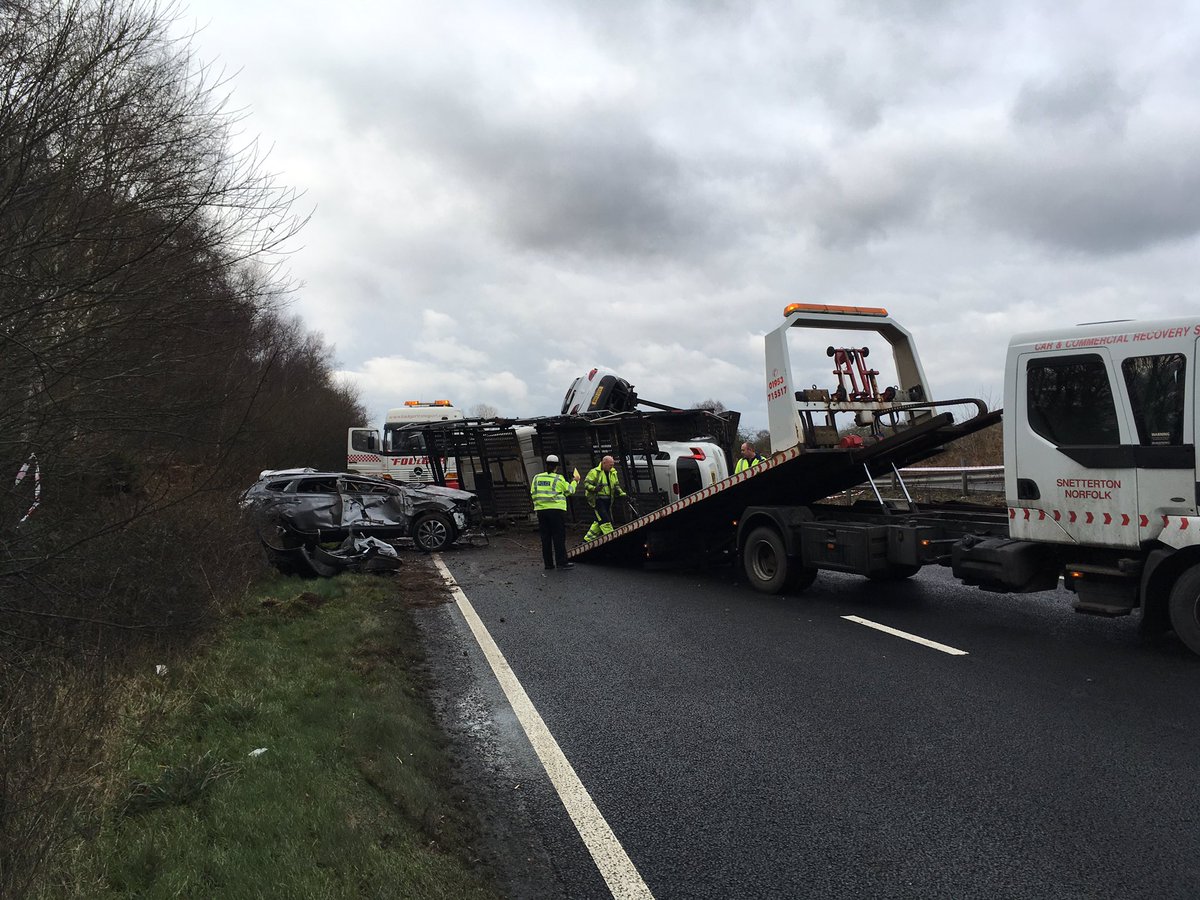 The A11 in Norfolk has re-opened after an accident during the rush hour closed it northbound for several hours.
It happened between the Breckland Lodge roundabout at Attleborough and the Ellingham Road turn off.
One lane northbound on the A11 at Attleborough is expected to remain closed for most of the day so repairs can be carried out on the safety barrier.
An accident just before 8 o'clock this morning closed the road northbound for the rush hour. One lane was re-opened just before 11am.
There is still heavy traffic in the area.
Advertisement
One lane has re-opened northbound on the A11 in Norfolk after an accident earlier this morning closed the road.
It happened between the Breckland Lodge roundabout and Ellingham Road just before 8am.
The closure caused long delays in both directions with tailbacks through Attleborough where traffic was diverted.
Southbound was also affected with long delays, caused by the diversion around the Breckland Lodge roundabout.
There are major delays on the A11 northbound in Norfolk after an accident forced the road to close.
The air ambulance is on the scene and the road could remain shut until lunchtime.
Traffic is queueing between London Road and B1077.
The boss of a coach company says the quick actions of his driver helped avoid any injuries during a dramatic fire on the A11 in Norfolk.
Read the full story ›
A van was stopped on the A11 after it was spotted in a seriously poor condition.
Norfolk and Suffolk Roads policing found the driver also didn't have insurance.
Load more updates