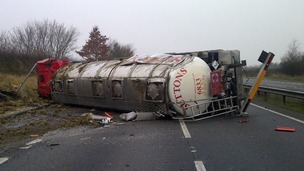 Major disruption after a bio-fuel lorry overturned on the A14 between Brampton Hut and Thrapston in Cambridgehire.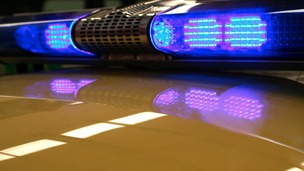 Fourteen people involved in a crash on the A14 near Junction 26 .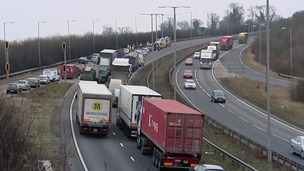 Suffolk MPs have met the Transport Minister to seek assurances about a planned toll road alongside part of the A14.
Live updates
Anglia Travel
The A14 is blocked both ways with stationary traffic due to accident, a motorcycle involved at J41 Newmarket Road (Risby). All traffic is being held whilst the air ambulance attends.
Pedestrian knocked down on A14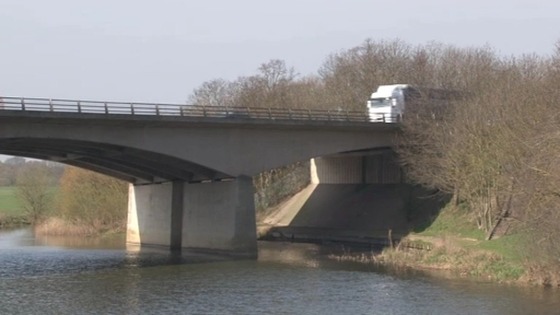 The A14 in Cambridgeshire was closed in both directions last night after what police have described as a collision between a pedestrian and a vehicle.
It happened on the west bound carriageway at about 7 o clock. The road had re-opened by 1 o clock this morning.
Advertisement
Anglia Travel
One lane of the A14 Eastbound in Cambridge is blocked due to an accident at J32/ B1049 (Histon Interchange)
Anglia Travel
ROADS: A14, CAMBRIDGESHIRE
There's queueing traffic and the exit slip road to M11 southbound is closed due to a fallen lamp post in the road and accident, a car involved on A14 Westbound at J31 M11 / A428 (Girton / Cloverleaf interchange), congestion to J33 A10 / A1309 (Milton Interchange).
Anglia Travel
The A14 Eastbound is blocked due to an overturned car before J49 A1308 Bury Road / Tot Hill (Stowmarket)
Anglia Travel
There are delays on the A14 in Suffolk due to an accident involving a car and a lorry at J59 (Trimley St Martin / Kirton) and (Seven Hills).
Advertisement
Anglia Travel
A14, Bury St Edmunds: West bound lane closed on the entry slip road at J44 due to an earlier accident and barrier repairs.
Anglia Travel
ROAD: A14 WESTBOUND, NORTHANTS
One lane blocked and long delays due to a broken down lorry on the A14 westbound between junction 1 (Welford / Cold Ashby) and the M1 / M6 (Catthorpe Interchange).
Meeting to decide on how to pay for A14 improvements
Councillors debate how to pay for A14 upgrades
It's one of the busiest and also one of the most dangerous roads in the region but now the debate over who will pay to improve the A14. Councillors from Norfolk, Suffolk, Essex, Cambridgeshire and Northamptonshire are meeting tonight to decide how to raise the cash. Megan Boot reports
Gas tanker crashes on A14
A tanker carrying 4,200 litres of argon gas and 1,000 litres of CO2 has been involved in a crash with two other vehicles on the A14. The accident happened at the Catthorpe junction with the M1 at around 8.40 this morning. Emergency services were called, the road remains closed.
Specialist hazard teams were called, but as the gases are not a danger to the environment they are being allowed to vent naturally.
Load more updates
Back to top