Live updates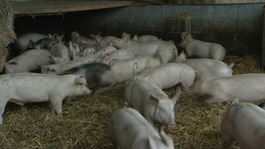 Two men have been sentenced for animal cruelty after they were filmed beating pigs on a Norfolk Farm.
Read the full story
Cruelty case
A man's been sentenced to 26 weeks in prison after being convicted of carrying out an 'horrific' attack on a dog. Last July bull terrier Barney had to be put down after suffering what the RSPCA described as 'one of the worst cases of animal abuse'.
Animal rights activists protested outside Colchester Magistrates' Court where Andrew Summerfield was being sentenced. They were campaigning for tougher punishments for animal cruelty.
Advertisement
Cruelty case
Pet owner Andrew Summerfield has been jailed for 26 weeks by Colchester Magistrates for killing his dog Barney.
Summerfield admitted shooting the bull terrier 10 times then hitting him with a meat cleaver.
Animal rights campaigners have staged a protest outside a court as a man accused of killing his dog appeared before magistrates.
Read the full story
Back to top