A dry evening with light winds, but soon turning cloudy with outbreaks of rain and increasing winds arriving by late evening.
Read the full story ›
A fine and generally dry day with a light breeze and plenty of long sunny spells, though becoming cloudier through the afternoon.
Read the full story ›
Advertisement
Bedfordshire Police are appealing for witnesses after two children were approached by a car and invited to get inside by the driver in separate incidents.
One child was walking along Adlington Road, Luton, on Thursday at approximately 8.45pm when he was approached by a man in a car.
He invited the child to get into the car, and when he refused, the man got out of the car and shouted after him.
He is described as black, approximately six foot tall, in his 50s, with grey hair, a scar on his cheek and a tattoo on his arm. He was believed to be wearing a black jacket and jeans, the car is described as a white BMW convertible.
Earlier that evening, at approximately 5.50pm, another child was walking in St Vincent Gardens, Luton, when he was approached by a man in a car who invited him to get into the car to go to his house.
This evening's showers will ease and then it will be a fine start to the weekend before rain arrives on Sunday.
Read the full story ›
Police have named the three people who died in a major crash in Bedfordshire earlier today.
16-year-old's Lewis Cook and Mary-Ann Wykes from Marston were killed in the collision, along with 32-year-old Genevieve Reason from Woburn Sands.
They lost their lives when the car they were travelling in hit a lorry on the old A421, which links Bedford and Milton Keynes.
Two other men were taken to hospital but have now been discharged.
The road is currently still closed and is likely to remain closed for the rest of the evening.
Click below to watch a report from ITV News Anglia Matthew Hudson
Advertisement
Three people have died and two more have been taken to hospital after a collision between a lorry and a car in Bedfordshire.
It happened on the Old Bedford Road between Marston Moretaine and Brogborough near Woburn just after midnight.
Three people died at the scene. Police say the road is likely to stay closed until this evening.
An easyJet plane has been forced to return to Luton Airport after several cabin crew members reported feeling unwell.
The EZY 2083 flight was destined for Tel Aviv in Israel but had to perform a u-turn.
The airline said that the crew are currently being assessed as a "precautionary measure".
They also said that the flight will now leave tomorrow.
Melbourn HART team mobilised to Luton Airport for report of multiple persons unwell on a plane. MW http://t.co/cOEJPiCsDr
"easyJet can confirm that flight EZY 2083 from Luton to Tel Aviv today has returned to Luton as a precautionary measure due to cabin crew members feeling unwell.

The crew are currently being assessed by medical staff as a precautionary measure. The flight will be delayed overnight and passengers will be provided with overnight accommodation and meals.

The safety and welfare of our passengers and crew is our highest priority. We would apologise for any inconvenience experienced by the delay."
– easyJet
An easyJet flight destined for Tel Aviv in Israel has had to return to Luton Airport after several people reported feeling unwell on the plane.
Melbourn HART team mobilised to Luton Airport for report of multiple persons unwell on a plane. MW http://t.co/cOEJPiCsDr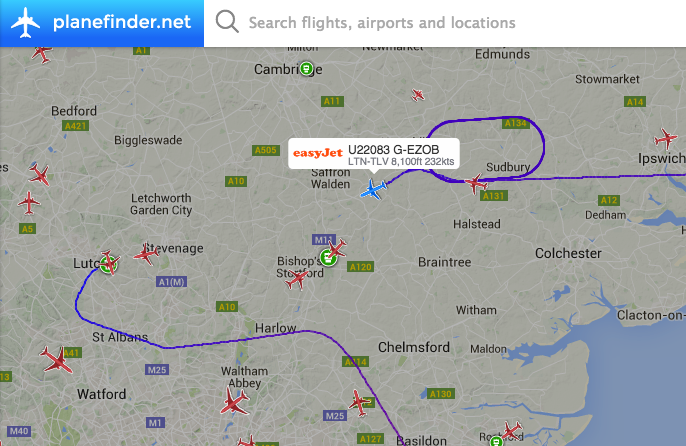 Load more updates